A few days back we saw TikTok rating dropping from 4.6 to 3.8, but now, the App has witnessed its lowest rating ever i.e- 2.0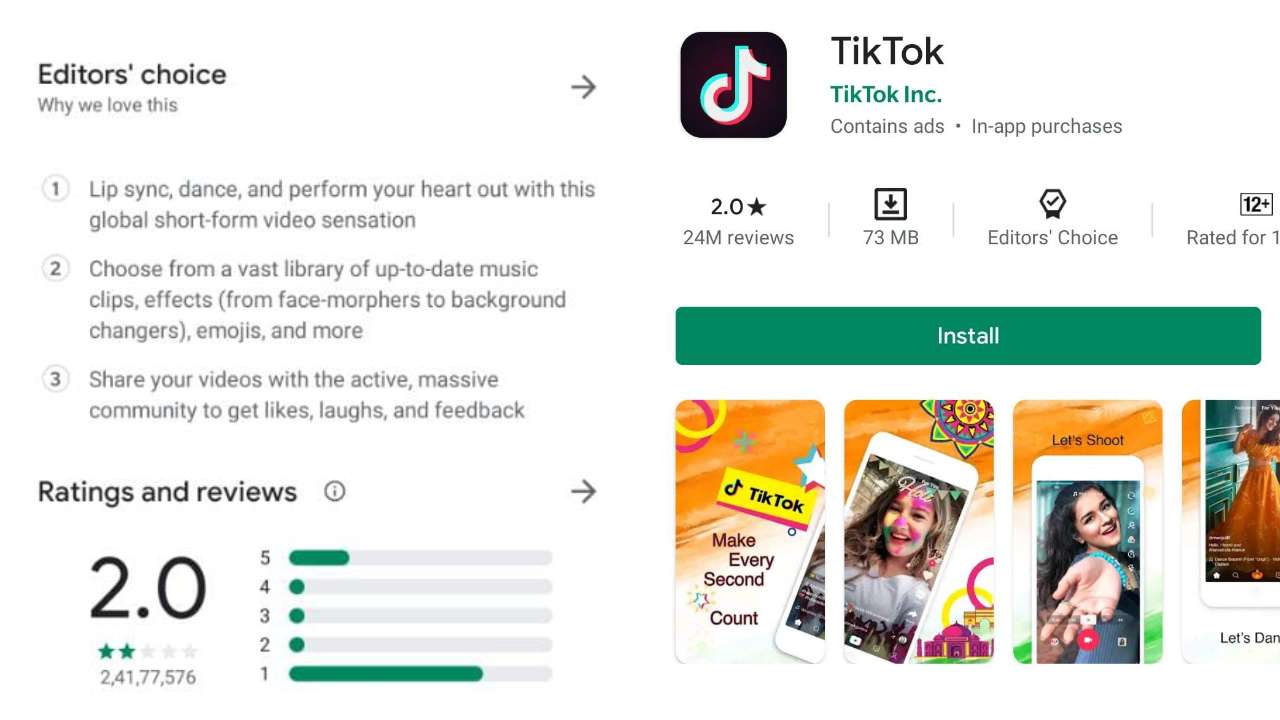 Updated: May 19, 2020, 10:34 AM IST
From the last few days, we are witnessing the never-ending war-'Youtube VS TikTok' on all our social media platforms.
CarryMinati's highly-popular YouTube vs TikTok video was taken down by YouTube which took the controversy another level.
While CarryMinati received a lot of support from fans who trended #BringBackCarryMinatiYoutubeVideo on Twitter, few of his fans started to trend #BanTikTok.
The trend surely has affected the ratings of the platform. A few days back we saw TikTok rating dropping from 4.6 to 3.8, but now, the App has witnessed its lowest rating ever i.e- 2.0
This is a huge drop for the platform. The war doesn't seem to end anytime soon as people on Twitter are backing YouTubers more than TikTokers and the microblogging site is flooded with memes on this entire fiasco.
TikTok App Has Now 2 Star Rating On Google Play…..

Few Days Back It Has 4.4 Star Rating..And Now 2 Star #BanTikTokInIndia pic.twitter.com/2QBFAqVrIP

— Abhishek SidHeart(@MrAbhishek04) May 19, 2020
#BanTikToklnlndia Tiktok's rating has dropped down from 4.5 to 2.0 Aur kitne ache din chahiye Mitroon pic.twitter.com/abJ7lMykCj

— Anitra Koner (@KonerAnitra) May 19, 2020
#BanTikToklnlndia latest rating of @TikTok_IN pic.twitter.com/bYnIRhDvWN

— (@mdadhichi) May 19, 2020
Pic 1: 17 May at 5:41 IST Pic 2: 19 May at 5:36 IST

Tiktok rating drops from 4.5 to 2.0 on Playstore pic.twitter.com/2P1f4fXs5X

— SUPER (@DBSChronicles) May 19, 2020
TikTok rating right now pic.twitter.com/ZuGY009sAy

— Vella प्राणी (@marshucasm) May 19, 2020
Tiktok rating decrease from 4.0 to 2.0 ..

Le me – pic.twitter.com/Gx43Remu9b

— Mirzapuri@aryankasera89) May 19, 2020
#BanTikTokInIndia TikTok Ratings and Positive Reviews Right Now: pic.twitter.com/2GtCzsgsBP

— Jitendra Srivastava (@iamjitusrivas) May 19, 2020
Popular YouTuber CarryMinati (real name Ajay Negar) created a video on YouTube vs TikTok a few days back where he was seen roasting popular TikToker Amir Siddiqui (who had once claimed he would be honoured to get roasted by CarryMinati).
The video went viral and it became a breeding ground for memers. The video was taken down from YouTube owing to the content violation and Ajay Negar created another video asking his fans to stop misusing the video for their benefit. Ajay got emotional while talking about the video and sending the message at the same time.
Another TikTok influencer Faizal Siddiqui has come under the scanner for one of his videos where he is allegedly promoting an acid attack on women by recreating a disturbing scene.