by Carlos Alberto Colodro
5/30/2020 – Hikaru Nakamura beat Magnus Carlsen in the second mini-match of their semi-final at the Lindores Abbey Rapid Challenge, scoring a win in the first encounter and drawing the remaining three games. The match will be decided in Saturday's third rubber. Meanwhile, Daniil Dubov defeated Ding Liren for a second day in a row to secure a spot in the final. | Photos: Niki Riga / Lennart Ootes
---
Find the right combination! ChessBase 15 program new Mega Database 2020 with 8 million games and more than 80,000 master analyses. Plus ChessBase Magazine (DVD magazine) and CB Premium membership for 1 year!
Dubov knocks out Ding
---
The Lindores Abbey Chess Challenge started on May 18th. Twelve players are taking part. After a three-day preliminary, the best eight players will advance to the deciding knockout section. The time control is 15 minutes for the game, with a 10-second increment per move.
---
The intrigue continues at the Lindores Abbey Rapid Challenge as Hikaru Nakamura defeated Magnus Carlsen in the second rubber of the semis to take the match to day three, when another four-game mini-match will decide who will be the rival of Daniil Dubov in the final.
Nakamura won a topsy-turvy game one, in which Carlsen gave up a piece early in the game, got a superior position and ended up blundering and losing. This win gave the five-time US champion the confidence he needed after his 0:3 loss from the first mini-match, as he showed poise to draw the remaining three encounters. When Tania Sachdev asked him how he had managed to recover from the first-rubber loss, 'Naka' responded:
I basically didn't think about it. I decided to stream and clear my head and have a good time. […] Obviously I reviewed some stuff, but mainly it was to keep my head clear and not let the negativity affect me.
One more four-game rapid confrontation will decide this semi-final, while Dubov will get two free days before the final kicks off on Monday. The Russian knocked out Ding Liren with a convincing second win in a row. His uncompromising style has worked wonders in this tournament, even against a player as principled as Ding. Although he will not be the favourite in the final no matter who wins the other match, his chances should not be underestimated!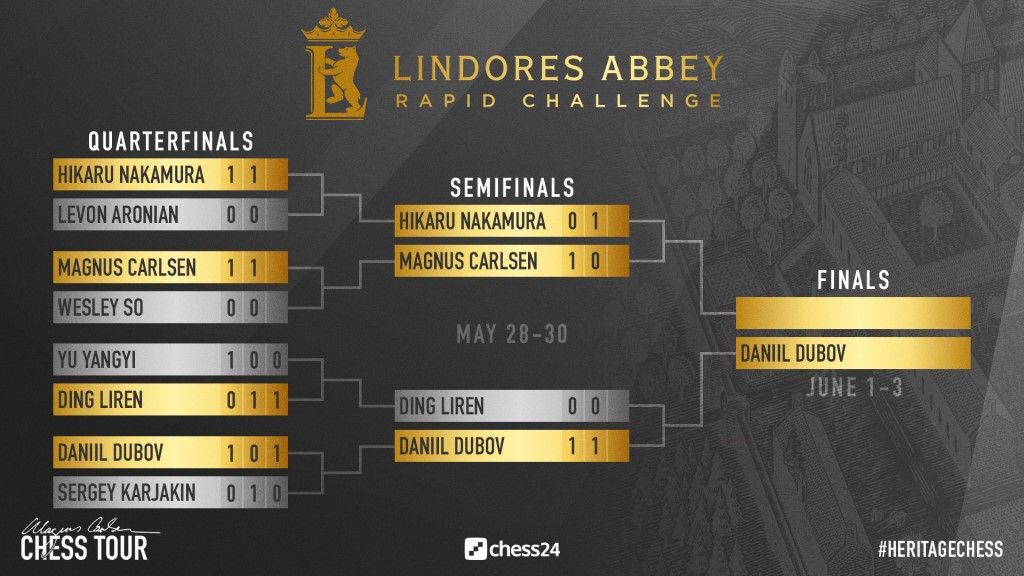 Nakamura 2½:1½ Carlsen
Game one started with a bang, as reaching an imbalanced struggle was unavoidable after Carlsen decided to give up a piece for two pawns on move 8:
The players followed a Peter Leko v David Navara game from 2018 with 8…Nxg4 9.hxg4 Bxg4 10.Be3, and the first one to deviate was Carlsen with 10…Be7. Leko, who was commentating for the official webcast, told a curious anecdote: after his game against Navara, the ever-friendly Czech star confessed to him that he had prepared the novelty 10…Be7 — as played by Carlsen — but that he ended up placing the bishop on d6 in a hurry, as he needed to go to the bathroom.
The world champion's approach was working well, as he was putting pressure with his bishop pair and his three connected passers on the f, g and h-files marching down the board against White's short-castled king. Some precision was needed nonetheless, and once he put a step wrong the tables quickly turned:
Carlsen had advanced his g-pawn to the second rank much too quickly, and after the mistaken 28…Qxf3 it is White who has a winning attack — 29.Qe5 Kd8 30.Qf6 Ke8 31.Bb4 c5 32.Bxc5 Kd7 33.Qf7 and Black resigned.
There was no bouncing back for the world champion as Nakamura, for the most part, kept things under control in the remaining three games. Carlsen did miss some small chances in game two, but his opponent did not let his guard down, thus getting a chance to reach the final in Saturday's third rubber.
Select an entry from the list to switch between games
Dubov 2½:½ Ding
A couple of days ago, Lawrence Trent tweeted: "Next time I fill out a form and they ask me my religion they better have Dubovian as an option". The English International Master, as many of us following the event, was amazed by Dubov's resolute style of play. The Russian already secured a spot in the final, after beating none other than Ding Liren, China's top grandmaster.
Dubov kicked off the second rubber with a 21-move win with the black pieces. As he has done so many times in the past, he pushed his h-pawn down the board early in the game. Ding was not careful enough and saw his king getting trapped in a mating net:
The forced line 19…Bxe5 20.Bxe5 Nxf3 21.exf3 Bg2 led to Black's resignation, as White's queen, rook and bishop are ready to give mate in all lines.
It took longer for Dubov to win the second game, as he had to escape a potential perpetual check by Black in a position with rook and queen against queen and three extra pawns:
White's rook cannot help in protecting his king from the checks, but there is a way to stop the constant attacks after 42…Qa3 — the king now goes to the kingside with 43.Kd2 Qa5 44.Kd1 Qh5 45.Ke1 Qe5 46.Kf1 Qa1 47.Kg2 and there is no way to give check from the key squares e5 or a8 once the king goes to f3. Black resigned.
The third game was drawn after 51 moves.
Select an entry from the list to switch between games
Links
Official site
All games on Live.ChessBase.com: Preliminaries | Knockout
Preliminaries: Day one, Day two, Day three
Quarter-finals: Day one, Day two, Day three, Day four, Day five
Semi-finals: Day one