Do you need to contact Peach Airlines?
We have all the contact details for Peach Airlines right here on our website. You can find addresses, phone numbers, and email addresses for Peach Airlines. Plus, we've also got a handy map so you can easily find your way.
Don't spend hours online trying to track down the right person at Peach Airlines. Let us do all the hard work for you! We've gathered all this information so you can easily get in touch with them and get the help you need. We also have shared Peach Airlines Facebook, Twitter, and Instagram account links and many more.
Peach Head Office
1 Senshu-kuko-naka Tajiri-cho,
Sennan-gun, Osaka 549-0011, Japan
Twitter:
Peach Customer Service
Phone: 03-6302-8991 (within Japan)
Phone: 81-3-6302-8991 (international)
Email: kixcbs@flypeach.com (for lost baggage)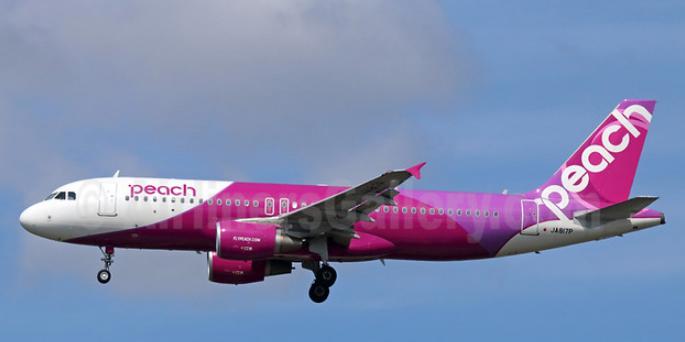 About Peach Aviation
Peach is a Japanese low cost airline that began operations in the year 2012. With its main hubs at Kansai International Airport, Naha Airport and Narita International Airport, the airline connects to over 20 destinations. Owned and operated by Peach Aviation Limited, the airline as of 2014 employed some 700 people.
Destinations covered by Peach include Tokyo, Sendai, Sapporo, Seoul, Busan, Nagasaki, Fukuoka, Miyazaki, Osaka, Okinawa, Kagoshima, Ishigaki, Hong Kong and Taipei. Booking of a ticket can be made directly on the website using Visa, MasterCard, JCB or Diners Club credit cards. Payments can also be made at ATMs or local convenience stores such as Lawson, Circle K and Sunkus. Peach Points is another way of paying for fares, baggage fees, or others.
Besides booking a ticket online or using a smartphone, fliers can also access the schedule, flight status or make changes to their existing Peach booking. The 'Happy Peach' fare is the cheapest of the fares. The 'Happy Peach Plus' is for passengers looking for more benefits. As for baggage, Peach allows 2 carry on pieces with up to 10kg weight. Check in baggage will be charged extra. Visit the website for rates and dimensions.
That is not all, besides booking a flight online, fliers can also look for a hotel, rent a car, register for tour, apply for a insurance and request airport transfers. For more information or queries on booking a ticket, refund/cancellation, group booking, lost baggage, or others, speak to a Peach customer service representative.