In today's time, OTT platforms have made a special place in our lives. The fact that we can binge-watch the latest series or movies at one go makes these OTT platforms a fun way of entertainment that can be done in the comforts of our room, cafe, public transport, etc. Adding more fun to the OTT platform party, a new video streaming service Paramount+ has made its way. An upgraded replacement of the CBS All Access, the Paramount+ gives us a unique experience with its on-demand streaming shows, movies, and live sports telecast. With a plethora of video streaming services at audiences' disposal, it is quite natural to get confused about which to select. Therefore we have brought critical Paramount+ Reviews so that you can analyze which OTT platform suits you the best. The Paramount+ Reviews would dig into what all can be watched on it, the pricing, and is it better than its competitors or not.
What is Paramount Plus?
Before moving onto any further details, let us first answer the question what is a paramount plus?
Paramount Plus is a new subscription streaming video service that has replaced CBS All Access. It features live sports and news, and on-demand movies and shows. It includes all original content that leans into parent company ViacomCBS brands, such as BET, MTV, CBS, Nickelodeon, Comedy Central, and Paramount Pictures. Besides that, it also licenses movies and shows from others to include all that content in its library.
This streaming service is launched to draw a deeper well of content from the parent company's portfolio. It will promote older movies and shows alongside a collection of originals.
Paramount Plus streaming will feature 50+ original series, with more than 30,000 episodes of TV shows and 2,500+ movies. However, the content will vary internationally depending on current licensing deals.
In the future, Paramount streaming service is expected to be the home of big-budget originals the Star Trek: Strange New Worlds, Halo TV series, and a Frasier reboot. Besides that, it will also have a growing library of movies, like A Quiet Place Part 2 and Mission: Impossible 7.
In short, this is an attempt made by ViacomCBS to expand into an all-conquering Netflix rival. Now the question remains, will it work?
What all can be watched on Paramount +?
The service's content is divided into two categories: on-demand content (network shows, original series, and films) and live streams (news and sports). All of ViacomCBS' channels are available, including BET, CBS, Comedy Central, MTV, and more.
1. Series that it offers-
Like its competitors, Paramount+ also offers an array of shows depending on the genre you like. If you want to binge-watch drama series then below are a few options from which you can pick-
All Rise
CSI (SCI and CSI Miami)
Clarice
Criminal minds
FBI and FBI: Most Wanted),
Hawaii 5-0 (classic and current)
MacGyver (classic and current),
NCIS (NCIS, NCIS: Los Angeles, and NCIS: New Orleans),
Star Trek (Star Trek, Deep Space Nine, Enterprise, The Next Generation, Voyager, and The Animated Series),
The Equalizer, The Good Wife,
The Twilight Zone (classic and current),
Twin Peaks
One has to keep in mind that Paramount+ has replaced CBS All Access, so if you were aware of the kind of content available on the CBS platform then you wouldn't be surprised to find the same kind of content even on Paramount+. But, the good part about this is that one can now watch CBS All Access's latest originals on Paramount+ easily.
Some of the original series that will be available on Paramount+ are Star Trek; Discovery, Star Trek: Lower Decks, Star Trek: Picard, Stephen Colbert Presents Tooning Out the News, The Good Fight, and Why Women Kill
2. Kids and family genres
If your kids or family is a fan of Nickelodeon then you would be glad to know that Paramount+ offers a wide range of Nickelodeon shows. As ViacomCBS owns Nickelodeon, therefore, it shouldn't be of many surprises that Paramount+ would also showcase Nickelodeon content. With kid-friendly titles, Paramount+ offers some of the best children-friendly content such as-
Avatar (The Last Airbender and the Legend of Korra)
Blue's Clues
CatDog
Dora the Explorer
Drake and Josh,
iCarly, Maurice Sendak's Little Bear,
Ned's Declassified School Survival Guide,
Paw Patrol,
Peppa Pig,
Teenage Mutant Ninja Turtles,
The Fairly OddParents,
SpongeBob SquarePants
3. For the reality shows lovers
Let's be honest, no matter how much we say that reality shows do not make any sense, we still love to watch them because of all the real-time drama it appears. Keeping up with all the drama, Paramount+ also offers some of the finest and most popular reality shows such as-
Behind the music
Cradle to stage
Ink Master
Queen of the Universe
Road rules
RuPaul's Drag race all-stars
The Real World: Homecoming : New York
4. The Big Picture- Movies and documentaries
Unlike its predecessor who never competed with movie streaming services, Paramount+ has taken up this challenge in full stride against its competitors like HBO Max, Prime Video, Disney+, Hulu and Netflix.
Paramount+ offers over 2500 titles. Currently, it's showcasing Internal Affairs, Lemony Snicket, A series of Unfortunate Events, Indiana Jones (Raiders of the Lost Ark, Temple of Doom and Last crusade), Spy kids 3-D " Game over, Trainspotting and much more.
Furthermore, its documentaries section also has some very interesting choices to explore such as 76 days, Console wars, Sir Alex Ferguson: Never Give up. On the Paramount+ one has access to watch a wide range of documentaries based on history, crime and politics.

5. For the sports enthusiasts
The Paramount+ offers live sports streaming. Coming with the CBS All Access background, the Paramount+ is keeping up to the expectations. It offers options to watch football, golf and college basketball events all on a budget.
Furthermore, one also access to watch NFL, NCAA Men's Basketball Championship coverage, Soccer games that include, Campeonato Brasileiro Série A, Concacaf, Liga Profesional de Fútbol, National Women's Soccer League, UEFA Champions League, UEFA Europa League, and UEFA Europa Conference League.
6. Access to Live TV
For its premium subscribers, the Paramount+ offers access to all the local CBS broadcast stations that means one can watch primetime shows such as 60 Minutes or any other show of the CBS network as when they get aired.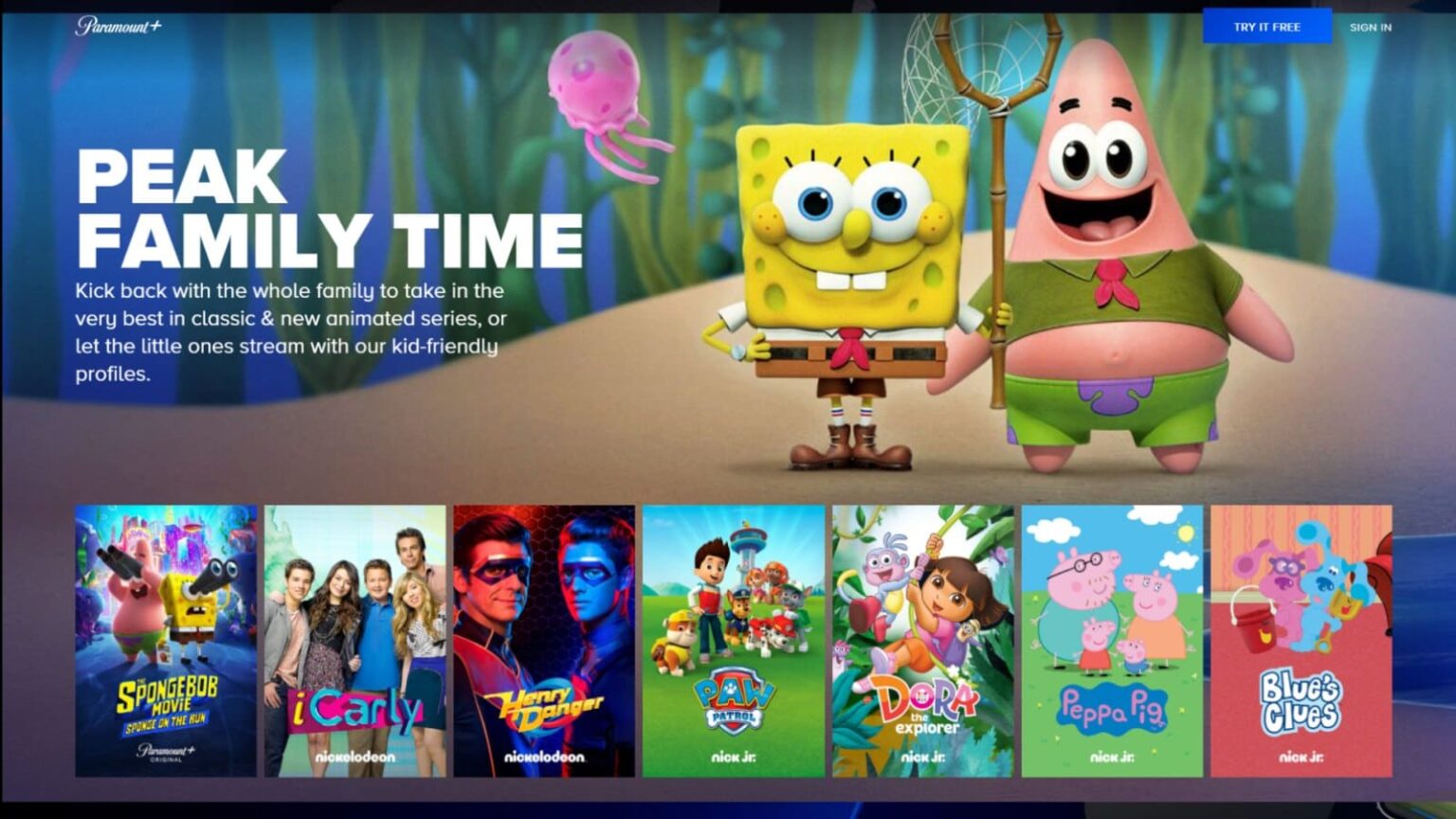 Subscription amount of Paramount+
When it comes to pricing, Paramount+ like its competitors offers a monthly and a yearly subscription. The monthly subscription is $4.99 per month whereas, the year subscription would cost $49.99 per year. In these plans, one would not be able to access local CBS stations but can access NFL games and UEFA Champions League soccer matches. Furthermore, this plan doesn't support features such as streaming titles in 4K nor, would be able to download.
On the other hand if one chooses to subscribe to Paramount+ premium tier then that would cost $9.99 per month and $99 for a year subscription.
Paramount+ interface on the web and mobile app
If you have used CBS All Access then you wouldn't find much difference in the Paramount+ interface on the web. It too uses a dark color scheme, sleek in design and is user-friendly. To make it more convenient for the audience, the categorizations have been done such as Trending shows, Recently added shows, Trending movies, On Now, Original and more.
Each show has been given its descriptions, list of available episodes and related show sections. One thing that Paramount+ doesn't offer (which it should) like Prime Video and Shudder is that it doesn't allow the audience to leave reviews of the content or give any ratings.
Paramount+ on mobile apps
Paramount+ can be easily downloaded on Android phones. Similar to its web theme, the app also contains a menu bar with Home, Search, Live Tv and More options.
Parental controls and Subtitles on Paramount+
This platform has a decent subtitling feature with the option of changing the font size, type, weight and color of the background. For subtitles, it offers the languages of English, Danish, Finnish, Norwegian and Swedish.
When it comes to Parental control, then the platform offers two kinds of settings- one for the younger kids and the other for older kids. When that setting is activated, only movies and shows with the specified ratings will be accessible. The strange thing is that Paramount+ doesn't require a password to switch from Kids Mode to Unrestricted Mode, which seems counterproductive to the purpose.
Paramount Plus Supported Devices
You can stream Paramount+ on most streaming devices and smart TVs. According to Paramount+'s support page, these are all the devices you can use to stream the service:
Apple TV
Apple iPhone and Apple iPad
Android TV (Google TV)
Android smartphones and tablet
Google Chromecast
Amazon Fire TV
Facebook Portal TV
Sony PlayStation 4 and PlayStation 5
Samsung TV (Tizen)
Vizio TV
LG TV
Roku
Xbox One and Xbox Series X/S
Xfinity Flex
So is Paramount+ really worth the hype?- FINAL REVIEW
To answer this question, we would have to go through the pros and cons of this platform so that we can decide whether Paramount+ is worth an investment or not?
The Pro's
1. It gives you a Live TV option which will include a feed of local CBS stations.
2. One doesn't have to wait for the season to end as one can access the recently aired episode.
3. Can watch Paramount movies that are still running in the theater.
The Con's
1. Does not have the feature of watchlists like its competitors who offer basic quality-of-life features.
2. Theatrical releases come in 45 days later which shouldn't happen as the standard way is that it should happen right away.
3. Does not have exciting original content like Netflix, Prime Video and Disney+.
4. One cannot get all CBS or Viacom show or Paramount movies on this platform
Paramount+ in a way has done way better than the CBS All Access, as previously CBS only got restrained within its content. Fortunately, Paramount+ has broken that barrier and is offering a wide range of TV shows, movies, Live Tv and sports all at a decent price.
It offers something for everyone, be it dramas, children's shows, family series, latest movies and sports games with easy accessibility. The accessibility of the latest Paramount+ movies on the platform gives the platform its uniqueness.
Things that Paramount+ needs to work upon are its basic quality life feature, downloading feature, the not-so-strict parental controls, creating more original content and most importantly, adding more features and options in the budgeted subscription.
The objective behind this Paramount+ Reviews was to ensure that our readers get to know this OTT platform completely so that they can decide better whether this platform is worth switching to or not. After considering the facts, pros and cons of the Paramount+ OTT platform, it can be stated in this Paramount+ review that this OTT still has a long way to go. Being a new contender in the OTT world it has to fight hard with some popular big guns like Netflix, Amazon Prime Video and Disney+ which is why it is all the more important for them to create a platform that entertains its audiences by giving them a wide range of choices to select, without them worrying about a hole in their pocket.
Frequently Asked Question
Does it cost to get Paramount Plus?
Yes, you have to pay a monthly subscription fee to access Paramount Plus content. Paramount Plus cost is $9.99 per month with no ads. They have a low-priced tier costing $5.99 with ads.
Is Paramount Plus free with Amazon Prime?
You can get a 30-day free trial to Prime Video along with a 7-day free trial to Paramount Plus which will be billed through your Amazon Prime account. You can access the Paramount Plus channel through Apple TV, but only if you have the premium plan.
How can I watch Paramount Plus for free?
You can sign up for the Paramount Plus free trial directly through the app or website. If you choose to keep your streaming services organized, you can access the free trial through Prime Video for which you will have to create an account.