Do you need to contact Olympic Air?
We have all the contact details for Olympic Air right here on our website. You can find addresses, phone numbers, and email addresses for Olympic Air. Plus, we've also got a handy map so you can easily find your way.
Don't spend hours online trying to track down the right person at Olympic Air. Let us do all the hard work for you! We've gathered all this information so you can easily get in touch with them and get the help you need. We also have shared Olympic Air's Facebook, Twitter, and Instagram account links and many more.
Olympic Air Head Office
Olympic Air
15 Valaoritou Street
Athens 10671, Greece
Twitter:
Olympic Air Customer Care
Phone: +30 21 03 550 500 (international)
Phone: 80 18 010 101 (within Greece)
Phone: 001 855 359 6200 (USA)
Email: reservations@olympicair.com
Book Olympic Air Flight
To book a Olympic Air flight online click here
Online check-in
To check-in online click here. You can check-in from 24 hours to 60 minutes before departure. Passengers must have an electronic ticket to check-in online.
Flight Status
To check Olympic Air flight status online click here
Track Cargo
To track your cargo click here
Baggage Information
Economy class passengers may carry up to 2 items of baggage with total max weight of 20 kilos. Business class passengers can carry 2 items with max 30 kilos. For cabin baggage, economy class passengers can carry up to 2 bags with max 8 kilos while business passengers can carry up to 12 kilos.
Travelair Club
Travelair Club is the frequent flyer program of Olympic Air. Members can earn reward miles every time they fly with Olympic Air or its partner airlines. One can also earn miles on renting car and booking hotels. Blue Card, Silver Card and Gold Card are the membership levels. For more details call the Olympic Air customer care.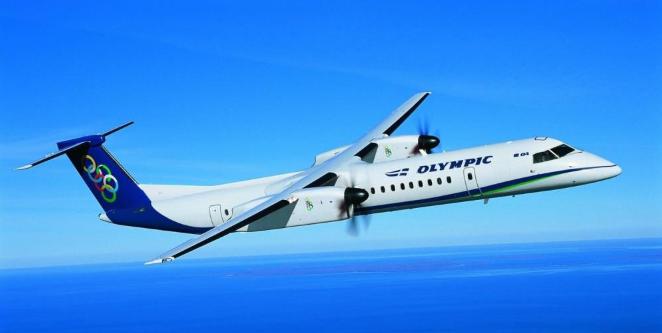 About Olympic Air
Olympic Air was previously Olympic Airlines, the national carrier of Greece which ceased operations in the year 2009. The airline currently is the largest airline in Greece and operates from its main hub at Athens International Airport with secondary hubs at Thessaloniki "Macedonia" Airport and Rhodes "Diagoras" Airport. Olympic Air operates about 150 flights per day and flies to over 40 destinations. The airline has codeshare agreements with Cyprus Airways, Delta Air Lines and Etihad Airways.
Olympic Air destinations include Athens, Abu Dhabi, Amsterdam, Atlanta, Belgrade, Bucharest, Johannesburg, Heraklion, Ikaria, Thessaloniki, Ionannina, Kavala, Cairo, Karpathos, Kassos, Cape Town, Kos, Istanbul, Leros, Limnos, Melbourne, Las Vegas, New York, Orlando, Sitia, Sydney, Samos, Tirana, Tampa, Syros, Chania, Phoenix, Chios and more.