Do you need to contact Gulf Air?
We have all the contact details for Gulf Air right here on our website. You can find addresses, phone numbers, and email addresses for Gulf Air. Plus, we've also got a handy map so you can easily find your way.
Don't spend hours online trying to track down the right person at Gulf Air. Let us do all the hard work for you! We've gathered all this information so you can easily get in touch with them and get the help you need. We also have shared Gulf Air's Facebook, Twitter, and Instagram account links and many more.
Gulf Air Customer Care (Bahrain)
+973 17335777
+973 17339339 – Flight Information
+973 17222820 – Reservation
+973 17224494 – Fax
Twitter:
Gulf Air Head Office
Gulf Air,
P.O. Box 138, Manama
Kingdom of Bahrain
Gulf Air Seef
17583111
17321373/17321374
Manama Center
17222820/17222805/17222829
17224494 – Fax
Gulf Air Cargo
17 321399
17 321366
39434424
Reservations in Worldwide
United Arab Emirates – 02 6516888
United Kingdom – 08 44493 1717
USA: 1 888 3594853
Australia – 1300 366 337
Germany – 71911211
France – 4952.4141
Spain – 93 217 15 65
Singapore – 6738 2500
India – 1800-123 7474
Hong Kong – 2926 2030
Canada: 1 888 359 4853
Indonesia – 30016028
Malaysia – 30016028
Italy – (0)2 67077382
Korea – 5607016
New Zealand – 308 3358
Pakistan – 2272201/03
Thailand – 2547931-4
Taiwan – 02-25603355 ext 209-212
Vietnam – 3914 7614 – ext: 14
Web Check-In
You can check in from 24 hours until 90 minutes before the flight departs. To check-in online right now click here
Flight Status
To check Gulf Air flight status online
Flight Schedule
To check Gulf Air flight schedule online
Lounges
Falcon Gold lounges are found in Bahrain, Dubai, London and other major cities.
Baggage Information
Checked Baggage:
Falcon Gold passengers: 40 kg
Economy Class passengers: 30 kg
Gold: an additional 20 kg
Silver: an additional 15 kg
Hand Baggage
Falcon Gold members can carry one bag with total 9kg weight and Economy Class passengers can carry one bag with total 6kg.
Track Lost Baggage in Gulf Air
To track lost baggage click here
Duty Free Shopping
Duty free shopping is available on Gulf Air flights. You can select products from a range of categories including Gifts, Watches, Electronics, Fragrances etc. For more details visit the website at www.dutyfree.gulfair.com
Gulf Air Destinations
Gulf Air flies to London, Paris, Frankfurt, Istanbul, Tehran, Dubai, Bahrain, Cairo, Khartoum, Abu Dhabi, Riyadh, Muscat, Mumbai, Bangkok, Manila, Kuala Lumpur, Peshawar, Islamabad, Chennai, Kochi, Kathmandu, Dhaka, Jeddah, Alexandria, Cairo, Milan, Geneva, Milan, Beirut, and more.
Gulf Air Frequent Flyer Programme
The frequent flyer programme lets you earn miles every time you fly with Gulf Air or its codeshare flights. You also earn points on hotel booking and car rentals. There are three levels of membership – Blue, Silver and Gold. To enroll click here. For questions or feedback email at ffp@gulfair.com.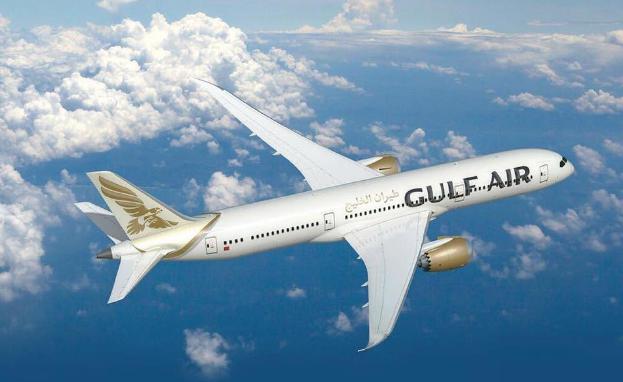 About Gulf Air
Gulf Air was founded in the year 1950 and is the national carrier of the Kingdom of Bahrain. The airline, headquartered in Muharraq, operates from its main hub at Bahrain International Airport and serves over 40 cities in 26 countries. Gulf Air's onboard service includes the award-winning Sky Chefs and Sky Nannies. Skytrax has ranked Gulf Air as a 3-star airline.  Bahrain Grand Prix is one of many events sponsored by Gulf Air.