Do you need to contact Flybe?
We have all the contact details for Flybe right here on our website. You can find addresses, phone numbers, and email addresses for Flybe. Plus, we've also got a handy map so you can easily find your way.
Don't spend hours online trying to track down the right person at Flybe. Let us do all the hard work for you! We've gathered all this information so you can easily get in touch with them and get the help you need. We also have shared Flybe's Facebook, Twitter, and Instagram account links and many more.
Flybe Head Office
Jack Walker House
Exeter International Airport
Devon
EX5 2HL
United Kingdom
Twitter:
Flybe Customer Care
UK: 0871 700 2000
International: +44 (0)1392 268529
Special Assistance
specialassistance@flybe.com
businesstravel@flybe.com
Technical Support
UK: 0906 999 9999
International: +44 (0) 1392 268518
technical.support@flybe.com
Flybe Customer Relations
The New Walker Hangar
Exeter International Airport
Devon
EX5 2HL
United Kingdom
UK: 0871 700 5000
International: +44 (0) 1392 268510
Fax: +44 (0) 1392 672246
Rewards4all
Flybe Rewards4all
Jack Walker House
Exeter International Airport
Devon
EX5 2HL
United Kingdom
UK: 0871 521 5555
International: +44 (0) 1392 268536
Charters
flybecharters@flybe.com
Cargo
Phone: +44 (0) 2087 574776
Fax: +44 (0) 2087 597027
Flybe Schedule
To check Flybe schedule online click here
Baggage Information
Passengers can carry 1 piece of hand baggage with weight not exceeding 10 kilos. For checked baggage, Economy Plus passengers can carry up to 40 kilos free. Flybe Economy passengers can pay in advance for bags at a discounted rate.
Check-in
You can check in online from 36 hours and up to 1 hour before departure. To check-in online visit the website at flybe.com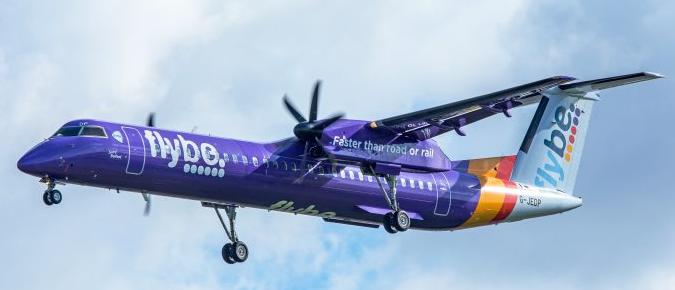 About Flybe Airlines
Flybe was founded in the year 1979 as Jersey European. The name was later changed to British European and then to Flybe in 2002. The low-cost British airline flies to over 45 destinations and is Europe's largest regional airline. Flybe operates from its hubs at Aberdeen, Belfast City, Birmingham, Cardiff Airport, Edinburgh, Exeter, Glasgow, Guernsey, Isle of Man, Jersey, London Gatwick, Manchester, Newcastle and Southampton. In 2009 the airline won the European Airline MRO of the Year by AVIATION WEEK's Overhaul and Maintenance (O&M) magazine. The same year it also won Air Transport World 2009 Global Regional Airline of the year
Flybe Destinations: Flybe destinations include Aberdeen, Alicante, Belfast, Bergen, Berne, Beziers, Birmingham, Brussels, Cardiff, Clermont, Ferrand, Darry, Dublin, Dundee, France, Edinburgh, East Midlands, Frankfurt, Geneva, Glasgow, Hamburg, Hannover, Jersey, Kirkwall, La Rochelle, Leeds, Liverpool, London, Malaga, Manchester, Milan, Newcastle, Nice, Norwich, Palma, Paris, Portugal, Salzburg, Southampton, Stuttgart, Switzerland, UK, and more.