Do you need to contact Continental Airlines?
We have all the contact details for Continental Airlines right here on our website. You can find addresses, phone numbers, and email addresses for Continental Airlines. Plus, we've also got a handy map so you can easily find your way.
Don't spend hours online trying to track down the right person at Continental Airlines. Let us do all the hard work for you! We've gathered all this information so you can easily get in touch with them and get the help you need. We also have shared Continental Airlines Facebook, Twitter, and Instagram account links and many more.
Continental Airlines Head Office
1600 Smith Street
Houston, TX 77002, USA
Twitter:
Continental Airlines Reservation
Phone 800.523.FARE (800.523.3273)
800.537.3366 (Japanese)
800.537.3444 (French)
800.537.8885 (Italian)
800.537.9222 (Spanish)
800.323.5359 (Portugese)
800.551.0943 (Cantonese)
800.231.0856 (international destinations)
Hearing Impaired
800.343.9195
Baggage Information
800.335.BAGS (800.335.2247)
One Pass (frequent flyer)
713.952.1630
Flight Status
800.784.4444
Online Technical Assistance
800.300.1547, 800.579.3958
Customer Care
CUSTOMER CARE
Continental Airlines, Inc.
900 Grand Plaza Drive NHCCR
Houston, TX 77067-4323
Presidents Club members
Presidents Club
Continental Airlines
NHCPM
P.O. Box 4555
Houston, Texas 77210-4555
Phone 800.322.2640
Continental Airlines Cargo
1-800-421-2456
+1-832-235-1539
cocargo@coair.com
International Offices in Reservation
Mexico
01 800 900 5000
Africa
(27) 11 442 0822 (South Africa)
(27) 11 442 0821 (Fax)
(254) 20 375 5646 (Kenya)
Thailand/Bangkok
662.267.8135
662.267.8138
China/Beijing
010.8527.6686 (Reservations)
400 650 6686 (Toll Free)
10.800.852.1232 (continental.com Support) – Northern China
10.800.152.1232 (continental.com Support) – Southern China
Philippines/Cebu
6332.255.7533
Vietnam/Ho Chi Minh City
848.821.5828
Hong Kong
852.3198.5777 (Reservations)
Indonesia
62 21 391 5509
Taiwan
886 7 802 6630
886.2.2712.0131
Malaysia
60.3.2142.4751
South Korea/Seoul
82.2.756.3792
Shanghai/China
400.650.6686
Singapore
65.6538.6860
Tokyo/Japan
81.3.5464.5050
0120.24.2414 (toll free)
Sydney/Australia
1300 737 640 (Toll Free within Australia)
Colombo/Sri Lanka
9411.2661703
9411.2661704
India
044-24330211 (Chennai)
95.124.4315500 / 0.124.4315500 (Delhi)
91.22.22182628 (Mumbai)
Dhaka/Bangladesh
880 2.9565380
Islamabad/Pakistan
92.51.2206704
92.51.2206705
UAE
971.2.612.3471
971.2.611.8662
Kuwait
965.242.8391
965.242.4528
Tel Aviv/Israel
03.511.6777
Book Continental Airlines Flight
To book a Continental Airlines flight online click here
Web Check-in
To check-in online click here. This facility is available between 60 minutes and 24 hours before scheduled departure.
Flight Status
To check Continental Airlines flight status online
Flight Schedule
To check flight schedule online
Baggage Information
Carry-On Bag: Continental will permit one bag plus one personal item with max weight of 18 kg.
Checked Baggage: Generally Continental Airlines accepts up to two pieces of checked baggage with a max weight of 50 pounds (23 kg) per bag. Star Gold members and US military personnel can check in up to 3 bags with max weight of 70 lbs.
OnePass
OnePass is a frequent flyer program of Continental Airlines. The program enables you earn miles every time you fly with Continental Airlines or its partner airlines. You can also earn miles or points by booking hotels, renting car and others. Other benefits include priority check-in, dedicated phone line, excess baggage, lounge access etc. To register to the program right now
Presidents Club
By being a member of the Presidents Club you get to enjoy a range of benefits including lounge access to all 970 Star Alliance network lounges worldwide. You also get complimentary snacks, free wifi, and much more.
Continental Airlines Destinations
Continental Airlines' destinations include Mexico, Athens, Barcelona, Beijing, Belfast, Berlin, Birmingham, Brussels, Sydney, Frankfurt, Canada, Geneva, Fukuoka, Glasgow, London, Manila, Mumbai, Newark, Chicago, Paris, Orlando, Port of Spain,  Tel Aviv, New York, Delhi, Belfast, Boston, Bogota, Belize City, Tokyo, Zurich, Toronto and more.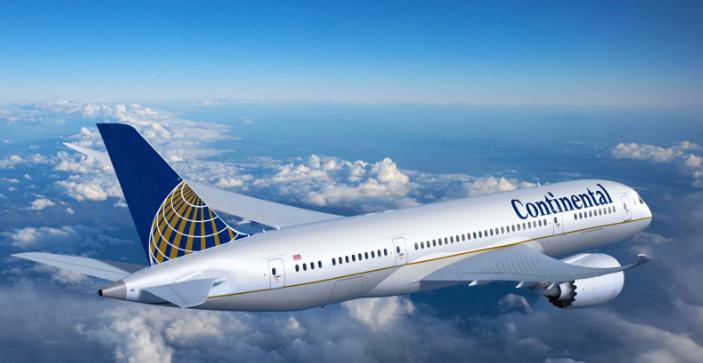 About Continental Airlines
Continental Airlines was founded on 1934 by Walter T. Varney and his partner Louis Mueller as Varney Speed Lines. In the year 1937 the company changed its name to Continental Airlines. Currently, Continental is the world's fifth largest airline. The airline is headquartered in Chicago and together with Continental Express and Continental Connection serve 134 domestic and 131 international destinations worldwide. Continental Airlines operates from its main hubs at Antonio B. Won Pat International Airport – GUM (Guam); Cleveland Hopkins International Airport; George Bush Intercontinental Airport (Houston); and Newark Liberty International Airport.
The merger of United Airlines and Continental Airlines in 2010 now brings both under one name United Continental Holdings, Inc. Together with United Express, Continental Express and Continental Connection, the new United operates a total of approximately 5,800 flights a day to 371 destinations. United and Continental are members of Star Alliance. United and Continental together employ over 80,000 people worldwide.
Recent Awards (2010/2009): No. 1 U.S. Airline – World's Most Admired Airlines by FORTUNE Magazine; Best Airline for North American Travel (Business Traveler Magazine); Best Airline: North America (Skytrax World Airline Awards); Best Airline to North America (Irish Travel Trade News Awards), and more.