Do you need to contact China Southern Airlines?
We have all the contact details for China Southern Airlines right here on our website. You can find addresses, phone numbers, and email addresses for China Southern Airlines. Plus, we've also got a handy map so you can easily find your way.
Don't spend hours online trying to track down the right person at China Southern Airlines. Let us do all the hard work for you! We've gathered all this information so you can easily get in touch with them and get the help you need. We also have shared China Southern Airlines Facebook, Twitter, and Instagram account links and many more.
China Southern Head Office
China Southern Airlines Company Ltd,
278 Ji Chang Rd.
Guangzhou 510405 China
Phone: +86-20-8612-4462
Twitter:
China Southern Customer Care
(8620)95539 – within China
+86-20-22395539 – international
Baggage Help
+86-20-95539
+86-20-86122921
Email China Southern
csnib@csair.com
ecsupport@csair.com
Pearl Club (frequent flier program)
Phone :020 -95,539 86-20-86682000
Fax :020 -95539-1- #
E-mail: skypearl@csair.com
International Contacts
Amsterdam 0033-20-4123120
Bangkok 662-6777365-6
Brisbane 0061-7-38605510
Chicago 001-773-6018800
Delhi 0091-11-43596075/77/78
Dubai 0097-142218888
Fukuoka 0081-92-4818181
Hanoi 0084-4-37716611
Hiroshima 0081-82-5047911
Ho Chi Minh 0084-88235588
Hong Kong 00852-29295033
Islamabad 0092-51-2273446
Indonesia 0062-21-5762088
Jeddah 00996-6532591252
Kathmandu 00977-1-4427261
Kuala Lumpur 0060-3-21639977
Los Angeles 001-323-6538088
Manila 0063-2-5216666
Melbourne 0061-3-86760088
Moscow 007-495-9874629
Nagoya 0081-52-2188070
Nigata 0081-25-2274158
Osaka 0081-6-64486655
Paris 0033-1-53679999
Penang 0060-4-2278878
Phnom Penh 00855-23-430877
Pusan 0082-51-4699075
Sendai 0081-22-7260717
Seoul 00822-7759070
Singapore 0065-62233233
Sydney 0061-2-92339788
Taipei 00886-2-25099555
Tokyo 0081-3-51578011
Yangon 0095-1250016
China Southern Flight Status
To check China Southern flight status online click here
Baggage Enquiry
For baggage related queries click here
Baggage Allowance
40 KG for first class, 30 KG for business class, 20 KG for economy class . Visit the website for more details.
Web Check-in
To check-in online on China Southern click here
Sky Pearl Club
Sky Pearl Club is the frequent flier program of China Southern Airlines. Members of the program can earn reward miles every time they fly with China Southern or its partner airlines. Miles can also be earned on hotel booking and car rental. To register online click here
China Southern Destinations
China Southern Airlines destinations include Almaty, Amsterdam, Anshan, Auckland, Bangkok, Beijing, Brisbane, Busan, Cebu, Changde, Chengdu, Chicago, Dali, Dalian, Delhi, Dhaka, Dubai, Frankfurt, Fukuoka, Guangzhou, Hanoi, Hiroshima, Ho Chi Minh City, Islamabad, Jakarta, Jeddah, Kathmandu, Kunming, Lhasa, Lijiang, Linyi, Luzhou, Male, Macau, Manila, Melbourne, Milan, Moscow, Nagoya, Paris, Osaka, Phnom Penh, Sanya, Seoul, Shanghai, Shenzhen, Singapore, Sydney, Taipei, Tehran, Vienna, Xining, Yangon, Zhuhai and more.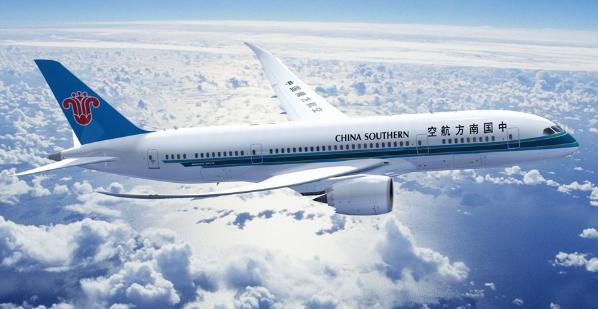 About China Southern Airlines
China Southern Airlines Co. Ltd. was founded in the year 1981. It is a leading Chinese airline dubbed as world's fifth-largest airline in terms of passengers carried. It is also Asia's largest airline for the same. The airline is one China's "Big Three airlines" alongside Air China and China Eastern Airlines. China Southern currently flies to about 120 destinations and operates from its hubs at Beijing Capital International Airport and Guangzhou Baiyun International Airport.
China Southern's focus cities include Changchun Longjia International Airport, Changsha Huanghua International Airport, Dalian Zhoushuizi International Airport, Hangzhou Xiaoshan International Airport, Shenyang Taoxian International Airport, Shenzhen Bao'an International Airport, Urumqi Diwopu International Airport, Wuhan Tianhe International Airport and Zhengzhou Xinzheng International Airport.
As China's largest airline, China Southern Airlines has 53 International offices. The airline is a member of the worldwide airline grouping SkyTeam. China Southern has been ranked as the largest airline in China for 32 consecutive years. Skytrax has given the airline a 4-star ranking.