Brian Hornaday is the chief of the Herington Police Department in Kansas. The Herington police chief said a former police officer fabricated an incident with a McDonald's coffee cup involving an expletive and a pejorative "as a joke."
Herington Police Chief Brian Hornaday said in a news conference that a police officer at the center of the case is no longer with the department. Hornaday had originally claimed in a Facebook post that a McDonald's employee wrote "(expletive) pig" on a coffee cup was given to one of his officers and that it was "a black eye" on Junction City.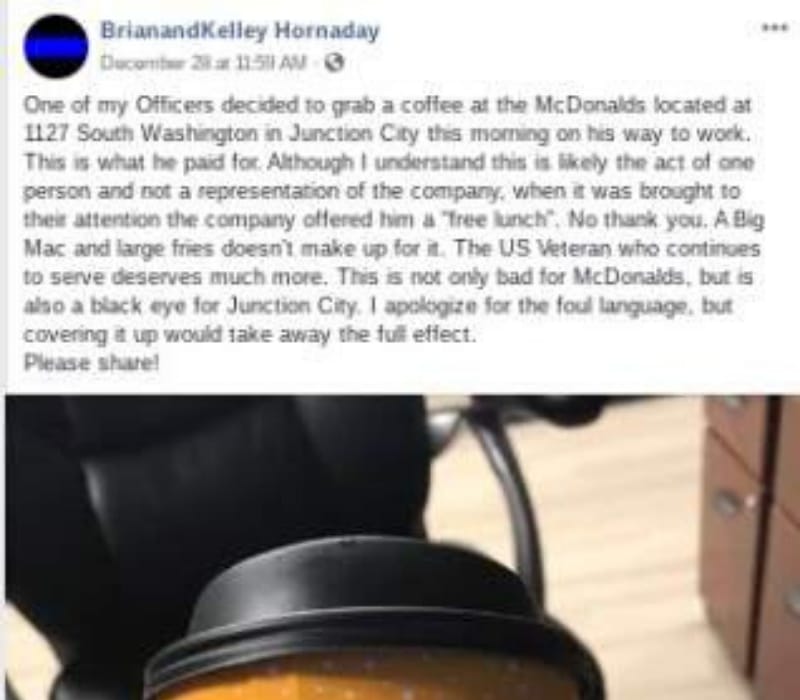 Curently, he is at the center of a controversy that began when he shared a photo on Facebook of a McDonald's coffee cup with the words "f*cking pig" written on it in marker. However, Hornaday said "McDonald's and its employees did not have anything whatsoever to do with this incident. This was completely and solely fabricated by a Harrington police officer who is no longer employed with our agency."
After initially standing by his story, Hornaday said the officer has since told him the note was "meant to be a joke." WIBW reports, the officer made the claims Saturday, telling the Chief he was on his way to work when he ordered a coffee at the Junction City McDonald's drive-thru. As he continued on his way, he saw the words "f***ing pig" written on his cup.
What did McDonald's reply about this Controversy regarding this all?
McDonald's Owner/Operator Dana Cook addressed the matter in a written statement Monday as well, saying, "My McDonald's have the utmost respect for all members of law enforcement and the military and were troubled by the accusation made. We thoroughly reviewed our security video from every angle, which clearly shows the words were not written by one of our employees. We look forward to working with Chief Hornaday as he continues his investigation."
"While we are glad that the evidence confirmed our evaluation that the McDonald's and our employees, crew members were not involved, we stand with our community in being disappointed about these actions. We took seriously our role to be transparent and fully cooperative with Chief Hornaday and his department throughout his investigation.
We look forward to continuing our strong relationship with the department moving forward. Our McDonald's family maintains a great respect for all members of law enforcement and our military. It is with great pride that our restaurant is always open to them," said Lenor Brazzi, Director of Operations for the franchise owner.
Brian Hornaday's Facebook page spread this news and later it was shared by other Kansas Police Departments.
The Herington Police Department chief posted a photo of the coffee cup with the vulgar anti-cop slur written on it to a Facebook page he shared with his wife, BrianandKelley Hornaday, on Saturday, December 28.
In the post "One of my Officers decided to grab a coffee at the McDonalds located at 1127 South Washington in Junction City this morning on his way to work. This is what he paid for. Although I understand this is likely the act of one person and not a representation of the company when it was brought to their attention the company offered him a "free lunch". No then you. A Big Mac and large fries don't make up for it. The US veteran who continues to serve deserves much more. This is not only bad for McDonald's but is also a black eye for junction city. I apologize for the foul language, but covering it up would take away the full effect."
Brian Hornaday Career
He was hired as the chief of police for the Herington Police Department in October 2018. Hornaday worked for several police departments in Kansas before moving on to become the police chief in Herington.
According to his Linkedin profile "I worked for the Leavenworth County Sheriff's Office, Wabaunsee County Sheriff's Office, Pottawatomie County Sheriff's Office, and Fort Riley Police Department. I have also worked part-time for the St. Marys Police Department and Kansas State University Police Department." He most recently worked for the Geary County Sheriff's Office, from 2014 to 2018, as a captain."
Furthermore, he served in the U.S. Army before becoming a police officer.
Brian Hornaday Wife
He is a married man and has two children together. Hornaday was born and raised in southern Arkansas and he completed his education from Military Police School in Fort McClellan.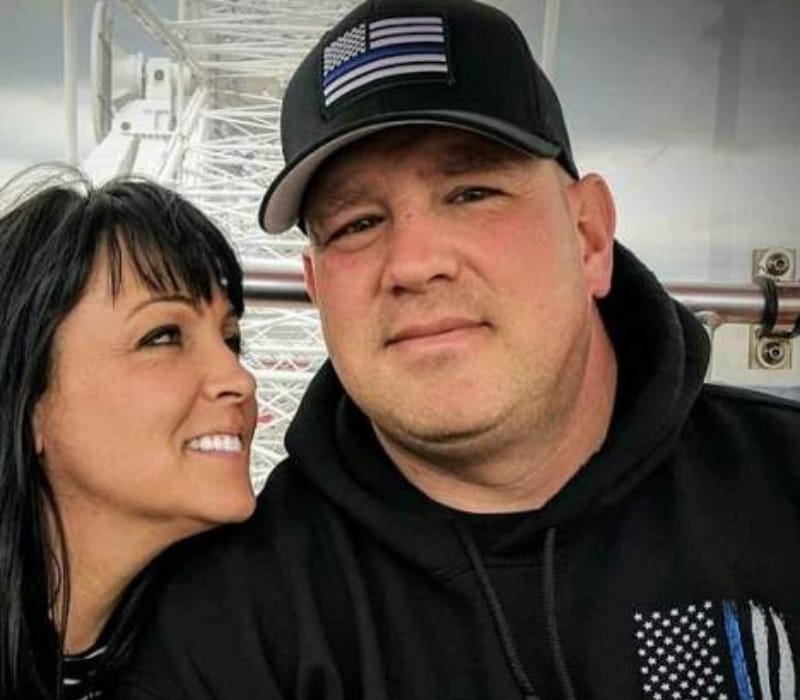 Brian Hornaday first met his wife Kelley in 2002 and according to his Linkedin "I met my wife, Kelley, a native of Kansas, in 2002 and we have two children. I enjoy [sic] hunting, fishing, football, baseball, and video games."