Do you need to contact Air Canada?
We have all the contact details for Air Canada right here on our website. You can find addresses, phone numbers, and email addresses for Air Canada. Plus, we've also got a handy map so you can easily find your way.
Don't spend hours online trying to track down the right person at Air Canada. Let us do all the hard work for you! We've gathered all this information so you can easily get in touch with them and get the help you need. We also have shared Air Canada Facebook, Twitter, and Instagram account links and many more.
Air Canada Head Office
Air Canada Centre, 7373 Côte-Vertu Blvd. West
Saint-Laurent, Quebec H4S 1Z3
Air Canada Customer Care
Telephone: 1-888-247-2262 (toll free number for US and Canada)
Twitter:
Hearing Impaired Customer Care
Telephone: 1-800-361-8071 (toll free)
Reservations
Telephone: 1-514-393-3333
Reservations in UK
Telephone: 0871 220 1111
Group Reservations
Canada: 1-888-567-4160
U.S.: 1-800-268-0024
Baggage Assistance
Telephone: 1 888 689-BAGS (2247)
Fax: 514-422-2900
Toll-free fax: 1 800 237-3563
Aeroplan Customer Care
Telephone: 1-800-361-5373
Check-In
You can check-in online, through mobile and even at the airport. To check-in online click here. The check-in option is available only if travelling within the 24-hour period prior to departure of all your flights. For mobile check-in simply visit mobile.aircanada.com and select the check-in option.
Flight Status
To check Air Canada flight status online click here
Flight Schedules
To check Air Canada flight schedules click here
Baggage Information
Carry-On Baggage: 1 standard article and 1 personal article with maximum weight of 10kg each.
Checked Baggage: You are allowed to carry 1 bag with 23 kg weight if you are travelling by Economy Class. Executive Class fliers can carry upto 3 bags with max weight 32kg each.
Aeroplan
Aeroplan is a loyalty program through which you earn miles every time you fly on Air Canada, Jazz or other Star Alliance member airline flights. You also earn miles when you book hotels, rent a car and buy travel insurance. To register now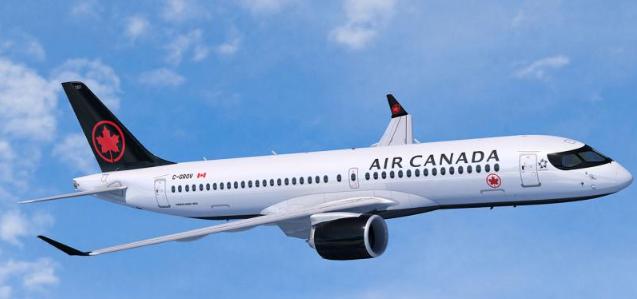 About Air Canada
Air Canada was founded in the year 1936 and is the largest airline in Canada serving over 170 destinations on five continents. The airline operates from its main hubs at Calgary International Airport; Montréal-Trudeau International Airport; Toronto Pearson International Airport; and Vancouver International Airport. Air Canada is a founding member of Star Alliance.The Star Alliance® network includes 27 member airlines. As the flag carrier of Canada, it is the 15th largest commercial airline in the world with over 20,000 employees. On average, Air Canada and its regional partners operate approximately 1,470 scheduled flights each day.
In May 2010, Air Canada was ranked 'Best Airline North America' by Skytrax for its 2010 World Airline Awards. In addition to that, in 2010, Air Canada won five top honours in Business Traveler magazine's 'Best in Business Travel' including 'Best Flight Attendants in North America.' The same year the readers of Global Traveler magazine voted Air Canada 'Best Airline in North America.'
Destinations
Beijing, Shanghai, Seoul, Osaka, Bangkok, Singapore, Tokyo, Hong Kong, Sydney, Auckland, Anchorage, Whitehorse, Vancouver, Honolulu, San Francisco, Los Angeles, Mexico City, Kansas City, Las Vegas, Houston, San Jose, Cancun, Toronto, Montreal, New York, Washington, Havana, Montego Bay, Calgary, Bermuda, Sao Paulo, Santiago, Buenos Aires, Rio De Janeiro, Dublin, London, Barcelona, Rome, Milan, Frankfurt, Copenhagen, Athens, Tel Aviv, Beirut, Tehran, Dubai, Delhi, Mumbai and more.