Up until recently, vegans and vegetarians at fine dining restaurants often had to ask for special exceptions. But so much has changed, and the past year has seen the first Michelin-starred vegan restaurant in Paris, a three-Michelin-starred vegan restaurant in New York, and the first UK Michelin-starred restaurant to serve "fake meat".
Analysis of the Bewada Traveler Top Restaurants database found that the Netherlands, Italy and the UK are the best destinations for diners looking for a curated vegan menu. In France, the most-cited country in our database with over 360 restaurants listed, 54% of restaurants have an option for vegetarians, and 20% for vegans. 
Our top picks from Asia, which includes China, Singapore and Hong Kong, tend to be the least accessible for vegetarians, with around 29% of the top restaurants in the seven Asian regions offering a vegetarian option and less than a quarter with vegan options.
Love to travel and eat vegan food? We've compiled a list of the top 10 most vegan-friendly cities worldwide! This list is determined by four main factors: the number of vegan restaurants in a five-mile radius in the most vegan restaurant-dense area in each city, the number of vegan/vegetarian/veg-option restaurants in the same five-mile radius, vegan restaurant count to population density, and our impression of the over-all vegan-friendliness of the city.
#1 London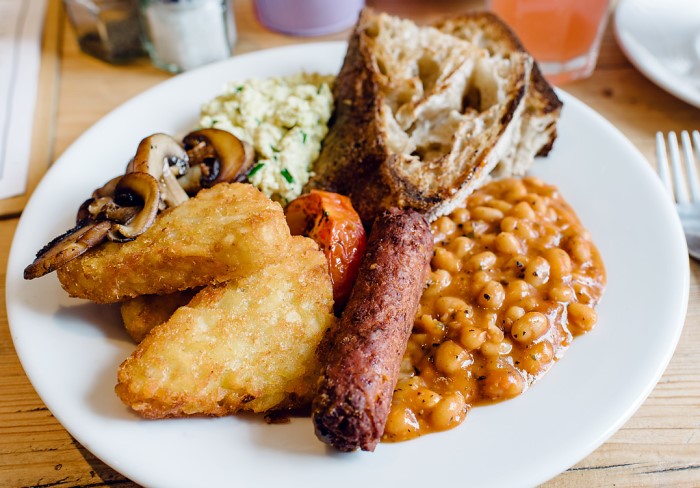 Unlike other cities, the London vegan restaurant explosion continued throughout 2019. London was the first city on HappyCow to surpass 100 completely vegan restaurants in 2017, and presently has 125 vegan restaurants in a five-mile radius within the city, and 152 fully vegan restaurants citywide. According to The Vegan Society's larger survey, the number of vegans quadrupled from 2014–18; in 2018 there were approximately 600,000 vegans in the UK, equivalent to 1.16% of the British population. Veganism continues to become a mainstream lifestyle in London, and this city takes veganism to a new level.
London has an abundance of vegan-friendly stalls, bakeries, cafes, smoothie bars, and even the UK's first vegan cheese shop called La Fauxmagerie. When in London, you are never more than a tube stop away from anything vegan you might desire. London's vegan pizza scene continues to flourish, with restaurants like Brighton transplant Purezza, and Young Vegans Pizza Shop in East London. The Vurger Co, a healthy plant-based burger joint with amazing sides and shakes opened its second location in Canary Wharf, and has it sights set on expansion to the Middle East and beyond. The acclaimed 222 continues to inspire. The two locations of the world's first vegan chicken shops, The Temple of Seitan, continue to thrive in London with their signature fried plant-based chicken and mac & cheese. Ethnic favorites include Itadakizen Japanese Macrobiotic restaurant, Zionly Manna with delicious Caribbean / African food, Andu Caffe on the east side for Ethiopian.
If you crave something sweet, try Vida Bakery, vegan doughnuts at Crosstown Doughnuts Vegan (the vegan version of this doughnut company opened last year in Marylebone), or sample the amazing selection of vegan ice cream at Yorica. Within a few minutes in the Camden Market area, you can walk to five different vegan restaurants and food stalls including Young Vegans Pie Shop with their fantastic pies and desserts, VBurger if you crave a tasty vegan burger, Rudy's Dirty Diner with American vegan fare, and The Magic Falafel for your falafel fix. Vegan activist Earthling Ed opened his popular vegan non-profit Unity Diner last year.
The UK's largest vegan restaurant, Norwich-based, three-story eatery Erpingham House, opened this year, serving hot drinks, juices, and lunch, as well as a restaurant that becomes a cocktail bar at night. New York vegan chain By Chloe continues to expand with two UK branches in Oxford Circus and Covent Garden, offering English classics like shepherd's pie and tofish & chips. Vegan formula one racing champion Lewis Hamilton opened the first location in London of a vegan burger chain called Neat Burger.
The word vegan can be seen all over the city, on the streets and in the tube stations, and there are so many vegan events in London now that it can be a challenge to keep up.
Vegan food shopping is a breeze in London, as there are loads of health food stores with vegan products, plus eleven veg stores listed on HappyCow including GreenBay in west London, Plant Based Supermarket in East London, and four zero-waste grocery stores including Harmless, BYO, and Pipoca Zero Waste Vegan Store. For those interested in raw foods, Paradise Unbakery is a perfect choice for gourmet raw delights. Vegan apparel can be found at The Third Estate. London is even home to a fully vegan hair salon The Rabbit Hole Vegan Hair Parlour.
International chain Pizza Hut added a full vegan menu, and KFC will trial vegan or vegetarian chicken in the UK later this year and already offers a vegan burger.
Veganism continues to be one of the UK's fastest-growing lifestyle movements, and this is certainly reflected in London's massive vegan scene. With the incredible number of superb quality vegan restaurants, the word "vegan" appearing throughout the cityscape, the number and quality of vegan events, and the sheer number of vegan products that can be found at mainstream stores, London, England remains our top pick for the world's most vegan-friendly city.
#2 New York City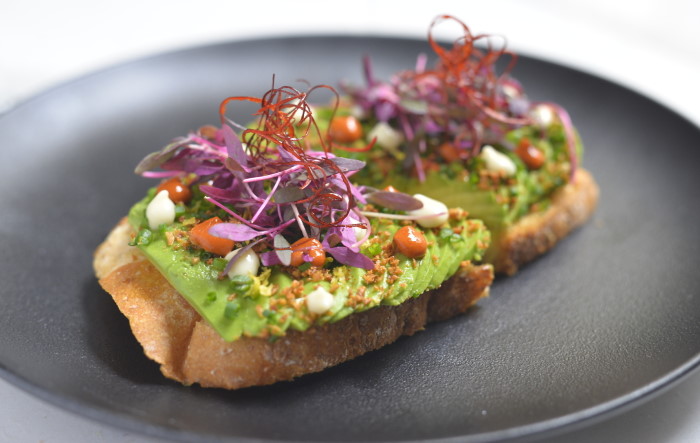 With its incredibly diverse variety of cuisines, New York is considered by many to be the international food capital of the world. New York's vegan scene continues to flourish, boasting 111 vegan restaurants in a five-mile radius of the city. P.S. Kitchen features an artisanal menu of small and large plates, desserts, and bar drinks. Some other spots for delicious, affordable, fast and tasty eats include the Vegan Food Court, which hosts the second location of Marty's V Burger's three locations, and the second location of V Spot from Brooklyn, all under one roof.
If you are seeking an upscale experience, try Avant Garden, for delectable choices, specializing in upscale, contemporary, fine vegan dining. Hangawi and Hangawi's sister restaurant, Franchia Vegan Cafe offers spectacular vegan Korean/Asian fusion food. If you are in the mood for French vegan food, Delice & Sarrasin serves amazing vegan crepes and vegan versions of other French classic dishes. When roaming the lively streets of Chinatown, be sure to check out Bodhi Kosher Vegetarian featuring Chinese dim sum. If you make it uptown to Harlem, try the upscale Seasoned Vegan restaurant featuring fine Caribbean cuisine and an organic juice bar.
New York City has numerous vegan bakeries including Erin McKenna's, a vegan sweets shop (Confectionery!), and a raw dessert shop (Rawsome Treats). Vegan shoe store Moo Shoes caters to your vegan feet. The city that never sleeps is becoming more vegan every day, and you will be able to find anything you crave here.
To avoid missing some of these hidden vegan gems in New York and other cities globally, use our HappyCow app and sort by highest rated!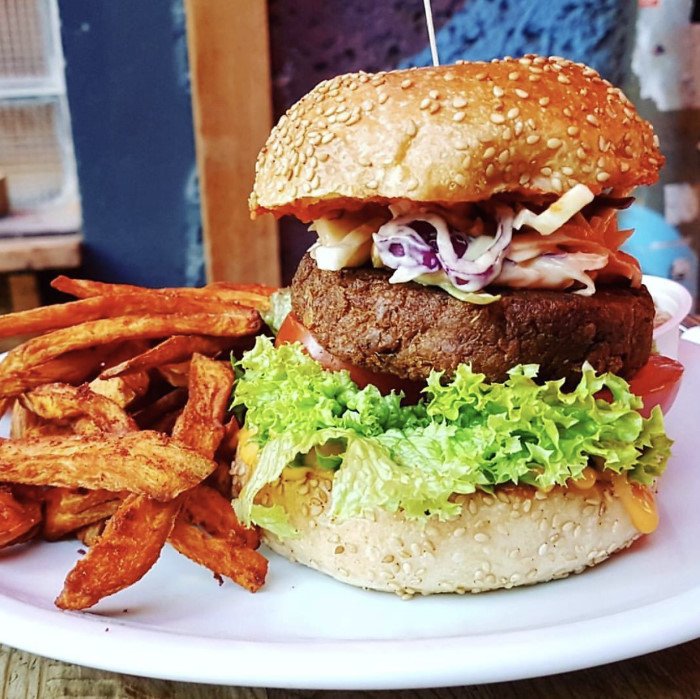 Although the number of vegan restaurants in Berlin seems to have plateaued more recently, the vegan scene in Berlin continues to grow and thrive, and Berlin upholds its reputation as an international vegan destination. The number of vegan restaurants within a five-mile radius around Berlin has grown to an astounding 62, and an additional 397 vegetarian and veg-option restaurants are listed on HappyCow. The word "vegan" is visible on restaurant signs throughout the city. Berliners are familiar with the widely accepted and practiced vegan lifestyle, and it is incredibly simple to find options throughout this progressive city. From stellar pizzas at La Stella Nera, world-class vegan döner kebab at Vöner der Vegetarische Döner, Vedang's two branches which serve vegan burgers and fast-food, creative gourmet cuisine at Lucky Leek or Kopps, to healthier dishes and raw cakes at Manafood, you can find any type of vegan dish you are craving.
A must when dining in Berlin is AtayaCaffe, Berlin's highest-rated vegan restaurant with African and Italian influences and a cozy living-room style interior plus a sunny terrace. Their vegan brunch and dinner on the weekend are highly recommended, and exceptional menu items include the African bowl, fresh gnocchi and ravioli, rich and creamy tiramisu, and organic Italian coffee. If you are in the mood for ethnic cuisine, Vietnamese-style restaurants have spread around the city over the past few years. Top-rated 1990 Vegan Living has Vietnamese tapas-style dishes including delicious mock meat and tofu plus great cocktails, and Quy Nguyen – Vegan Living serves delicious south Vietnamese fare. Other vegan Asian cuisines are also thriving in Berlin, including Secret Garden for vegan sushi and dumplings, Element Five for vegan Asian tapas/fusion cuisine, Feel Seoul Good which serves traditional Korean dishes in vegan versions, including soups, dumplings, bibimbap bowls, Korean pancake, kimchi, and vegan sushi rolls, and li.ke which offers Asian style tapas along with some main courses including dishes from Cambodia and Laos.
If you are seeking a place to enjoy brunch, Cafe Vux is one of the least expensive but has excellent quality food. If you want a quick vegan burger or quiche, check out Emmapea Vegan Food and Bar and FREA, a French/German fusion restaurant opened earlier this year to rave reviews, making all of their food in-house, from sourdough bread to sauerkraut to kefir, and they serve food using seasonal, organic, and regional farm produce. It is also a zero-waste restaurant. The mini-chain Swing Kitchen opened two stores in Berlin offering completely vegan and partially fair trade/organic burgers in the city center. Yoyo Foodworld is a seven-year-old classic, offering very affordable fast-food in the east of the city and is considered the oldest vegan fast-food restaurant in Germany.
If you're still craving sweets, you can get your vegan doughnut fix at one of Brammibals Doughnuts three locations or check out vegan French pastry shop Be Sweet. Balaram Eis serves incredible peanut vegan ice cream with pieces of chocolate, peanuts, and salted caramel.
Berlin's vegan scene continues to thrive and expand, and it's an awesome vegan-friendly city.
#4 Los Angeles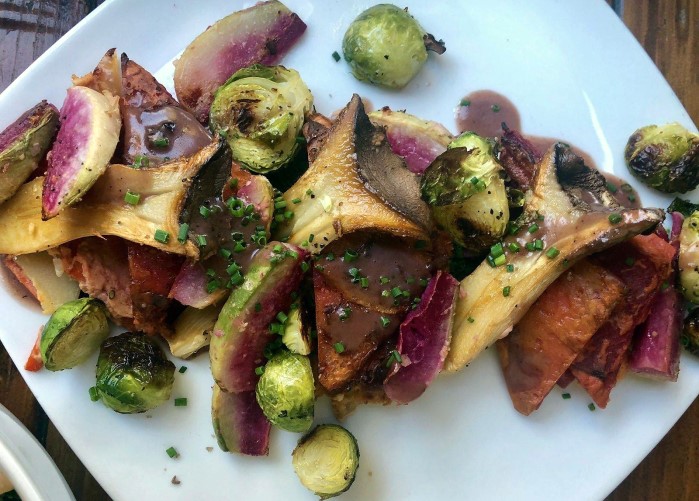 Although Los Angeles may be best known for Hollywood celebrities, including a number of vegan ones (Billie Eilish, the NBA's JaVale McGee, Joaquin Phoenix, Alicia Silverstone, and Casey Affleck, to name a few), Los Angeles is also a vegan mecca, boasting 49 fully-vegan and another 190 vegetarian and vegan-friendly restaurants in a five-square mile area. You won't have any trouble finding delicious healthy (or less-than-healthy) options throughout this large city. LA is known for its wide variety of international vegan cuisines, including 19 vegan Thai restaurants (we recommend Arraya's Place and Satdha), two vegan Ethiopian restaurants (Rahel Ethiopian Vegan Cuisine, and Azla Vegan), a mouth-watering vegan cheese restaurant (Vromage), an upscale gourmet vegan Japanese restaurant with two locations (Shojin), and the second location of vegan Vietnamese favorite Au Lac. Vegan cheese pizza and vegan mock meat toppings can be ordered at an increasing number of Italian restaurants throughout the city, or you can choose to stick with entirely plant-based Cruzer Pizza. Vegan burgers and other vegan options are available at most restaurants around the city.
LA is also home to iconic vegan musician Moby's Little Pine vegan bistro, serving upscale Italian/Mediterranean fusion dishes (100% of the profits go to various animal causes); and also to celebrity chef Tal Ronen's wildly successful Mediterranean fusion restaurant, Crossroads. New upscale vegan restaurants that have opened more recently include Nic's on Beverly, Matthew Kenney's Double Zero upscale vegan pizza restaurant from New York, and Matthew Kenney recently revamped the 150-year-old Parisian brand/bakery Ladurée's Beverly Hills branch menu to be completely vegan (in 2020, but partially reverted 2021). Some other superb vegan bakeries include Donut Friend's second location, Erin McKenna's Bakery LA, and Berkeley, CA transplant Cinnaholic for vegan cinnamon bun treats. Vegan bars/restaurants including Beelman's and a nearby quirky restaurant/bar with great American/fusion food, The Dankness Dojo By Modern Times Beer, continue to thrive.
Newer additions to the Los Angeles vegan scene include two new vegan burger joints including two locations of Monty's and VowBurger.
Although these options are spread out over a large area of the city, it's no wonder why LA is often referred to as a vegan haven.