Do you need to contact JetBlue Airways?
We have all the contact details for JetBlue Airways right here on our website. You can find addresses, phone numbers, and email addresses for JetBlue Airways. Plus, we've also got a handy map so you can easily find your way.
Don't spend hours online trying to track down the right person at JetBlue Airways. Let us do all the hard work for you! We've gathered all this information so you can easily get in touch with them and get the help you need. We also have shared JetBlue Airways's Facebook, Twitter, and Instagram account links and many more.
Twitter:
JetBlue Airways Head Office
118-29 Queens Blvd.
Forest Hills, NY11375
United States
Phone: 718-286-7900
Fax: 718-709-3621
JetBlue Reservation
In US
1-800-JETBLUE (538-2583)
In Aruba
297-588-5388
In Barbados
877-596-2413 (from Barbados landline only)
In Colombia
01800-9-156761 (from Colombia landline only)
In the Dominican Republic
809-200-9898
In Jamaica
800-963-3014 (from Jamaican landline only)
In Mexico
001-800-861-3372
In Saint Lucia
1-877-766-9614 (from Saint Lucia landline only)
In St. Maarten
001-877-306-4939
International
001-801-365-2525
Deaf or hard of hearing customers
(TTY/TDD) 1-800-336-5530
Baggage Claim
1-866-538-5438
Book JetBlue Flight
To book a JetBlue Airways flight online click here
JetBlue Flight Status
To check JetBlue flight status online click here
Check-in Online
To check-in online click here
Baggage Information
Checked Baggage: Each passenger can carry one bag for free with a size not exceeding 62 inches and a weight not exceeding 50 pounds.
JetBlue Destinations
JetBlue destinations include San Jose, Bogota, Kingston, Cancun, St Lucia, Barbados, San Juan, Santiago, Orlando, Tampa, Fort Myers, Houston, Austin, Bermuda, Charlotte, Raleigh, New Orleans, Phoenix, Oakland, San Francisco, Los Angeles, Las Vegas, Denver, Salt Lake City, Chicago, Boston, San Diego, Seattle, Baltimore, Newark, Dulles, Buffalo and more.
TrueBlue
TrueBlue is a frequent flier program of JetBlue. You earn award points every time you fly with JetBlue. Oneway Award Flights and roundtrip Award Flights start at 10,000 points. Click here to join.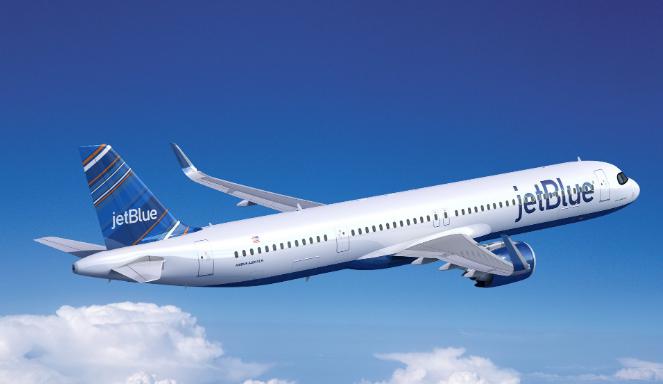 About JetBlue Airways
JetBlue was founded in the year 1998 and operates from its main base at John F. Kennedy International Airport (New York). The low-cost airline services over 60 destinations in 21 states. The airline was founded by David Neeleman. The company slogan goes like this – "You Above All". In 2010 JetBlue was ranked #1 Airline Brand by 2010 Brand Keys Customer Loyalty Engagement Index. It also won Most Customer-Friendly Airline at SmarterTravel Editors' Choice Awards.