No need for tiebreaks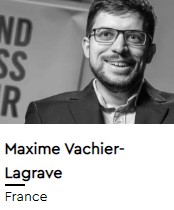 Day two of the Magnus Carlsen Invitational saw both winners getting three points apiece in their four-game match-ups — the rules stipulate that in case of an Armageddon tiebreaker two points are given to the winner and one to the loser. Maxime Vachier-Lagrave and Fabiano Caruana did not need an extra encounter on Sunday and joined Ding Liren in the lead.
The matches followed vastly different paths though. Vachier-Lagrave faced an unrecognizable Anish Giri, who misplayed the opening in the two first games, giving the Frenchman a substantial 2:0 lead out of the gate. On the other hand, Caruana was the one saving half points against Ian Nepomniachtchi in the first two encounters. The third game was a short draw, while the balance was only tipped in the last rapid game, when the American took advantage of a dubious strategic decision made by 'Nepo' out of the opening.
The only player not to get a rest day is Giri, who will face Nakamura on Monday, when we will also see the most anticipated match-up of the event: Magnus Carlsen v Alireza Firouzja. Let us not forget that the youngster recently defeated Carlsen in a 16-game blitz match.
Caruana 2½:1½ Nepomniachtchi
All four players who began their participation at the Invitational on Sunday played at the first half of this year's Candidates Tournament. In Yekaterinburg, Caruana played white against Nepomniachtchi in round four, when the Russian responded to 1.d4 with the Grünfeld and showed good defensive play to get a 55-move draw. This time around, Caruana opened with 1.e4 and faced the French Defence twice, getting in trouble in game one and signing an uneventful draw in the third.
'Nepo' used the French twice at the Candidates, drawing Kirill Alekseenko and suffering a crucial loss against Vachier-Lagrave before the event was stopped. The fact that he used this setup against Caruana might indicate that he does not plan to employ it when (or if) the tournament resumes.
Two Spanish openings were seen when Nepomniachtchi had the white pieces. In game two, he drummed up an advantage, but failed to find a killer shot:
White went for 34.Rxd6, giving Black a chance to simplify the position and temper White's potential attack with 34…Rb6 35.Rxf6 Qxf4 36.Rxf4. Nepomniachtchi did get an endgame a pawn up, but in the diagrammed position he had the very strong 34.Nh4, threatening to further weaken Black's structure and putting his opponent in an uncomfortable situation — without any really useful move to continue. After the text, Caruana showed good technique and simplified into a drawn 4 v 3 rook ending.
In game four, out of a Closed Ruy Lopez, Caruana gave his opponent a chance to enter a strategically superior position on move 20:
The commentators thought that 21.axb4 axb4 22.c4 was the logical way to continue, getting strong control of the centre. Instead, 'Nepo' went for 21.Rad1, and the difference is that after 21…Red8 22.c4 bxa3 23.Bxa3 Black gets a square for his knight — 23…Nb4.
Following simplifications left Black with the better minor pieces, as White's light-squared bishop made a poor impression behind his own chain of pawns. From this point on, Caruana showed his class and got match victory with a 73-move win that ended in checkmate.
Select an entry from the list to switch between games
Vachier-Lagrave 3:1 Giri
At the Candidates, Giri got white against 'MVL' in round three. France's number one played his pet Grünfeld, Giri could not find — or did not remember — how to play what he considered to be a sub-optimal line and a draw was signed after 30 moves.
At the Carlsen Invitational, Vachier-Lagrave started with white and, after the players repeated 22 moves of Vitiugov v Caruana from this year's Tata Steel Masters, an apparently dry endgame showed up on the board. This is not a classical event though, so everyone is bound to make mistakes. Giri mishandled the position, allowing his opponent to decisively activate his king:
After 41…Rc5, White made major progress in the sequence 42.Rd7 a5 43.Ra7 a4 44.Bd5 Rc1 45.Ra6 Kg7 and 46.Kf5. 'MVL' ended up scoring his first win of the day after 59 moves.
Game two saw the Frenchman surprisingly going for a Semi-Slav — i.e. not a Grünfeld — although he did fianchetto his bishop on g7 eventually. Giri again showed he was not his usual self during the middlegame complications. Vachier-Lagrave did not let this chance go to waste either and finished the game in style:
26…Qf3, with two lethal pins and the bishop ready to give a check from d4 if necessary. White resigned.
In game three, Giri was on the better side of a 4 v 3 rook endgame, but could not get his opponent to falter and the the point was split after 92 moves. Vachier-Lagrave had already secured match victory and drew the last game with black to get a 3:1 win. Giri will have plenty of chances to recover, and will surely take solace in the fact that the main goal is to finish among the top four in the round-robin section.
Select an entry from the list to switch between games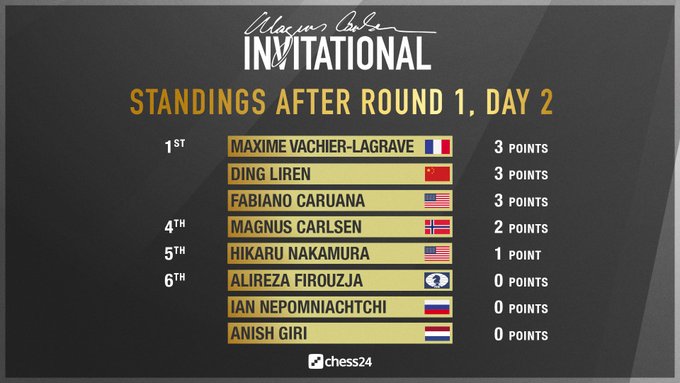 ---
Round-up show
IM Lawrence Trent recapped the action of the day
---
All games
The Magnus Carlsen Invitational is brought to you by chess24.com. Learn more about the tournament at magnuscarlsen.com/en/invitational
Links
Official site
Round 1: Day 1