by Carlos Alberto Colodro
5/4/2020 – The first Magnus Carlsen Invitational was won by none other than world champion Magnus Carlsen. The Norwegian defeated Hikaru Nakamura 2½:1½ in a closely disputed final match. The confrontation was highly technical, as all the games went relatively deep into the endgame. Nakamura almost tied the score in the fourth game, but failed to make the most of his advantage. Round-up show by GM Yannick Pelletier. | Photo: Amruta Mokal
---

Find the right combination! ChessBase 15 program new Mega Database 2020 with 8 million games and more than 80,000 master analyses. Plus ChessBase Magazine (DVD magazine) and CB Premium membership for 1 year!
Grinding it out
Magnus Carlsen made a name for himself by outplaying elite opponents in apparently lifeless positions. After reaching the pinnacle of the game — and especially after his World Championship match against Fabiano Caruana — he turned to a different strategy, strengthening his openings and entering tactical struggles: he also succeeded while doing so. Against Nakamura, he showed he can still grind out victories from dry setups, although he also had trouble defending these very positions. The Norwegian commented:
Apparently I just can't defend anymore, so there's that.
The Invitational kicked off a little over two weeks ago, and Carlsen was paired up against Nakamura on opening day. Four wins for White meant the score was tied in regulation, and Carlsen went on to win the Armageddon tiebreaker. The tournament came full circle in a way, as the same two players reached the final. Coincidentally, the first three games of the deciding match also saw wins for White. Carlsen finally held a draw with Black in game four, breaking the streak and getting tournament victory.
The winner of the event that holds his name confessed that he was not at his best during the tournament, but that not winning it would have nevertheless been a disappointment:
It is a big deal. It would've been a disappointment if I hadn't [won] — I'm not gonna lie. I'm really, really happy both to beat Hikaru today, but especially to have gotten through against Ding. I never felt like I got in full gear in this tournament.
Carlsen obtained the US$70,000 first prize, while Nakamura received US$45,000.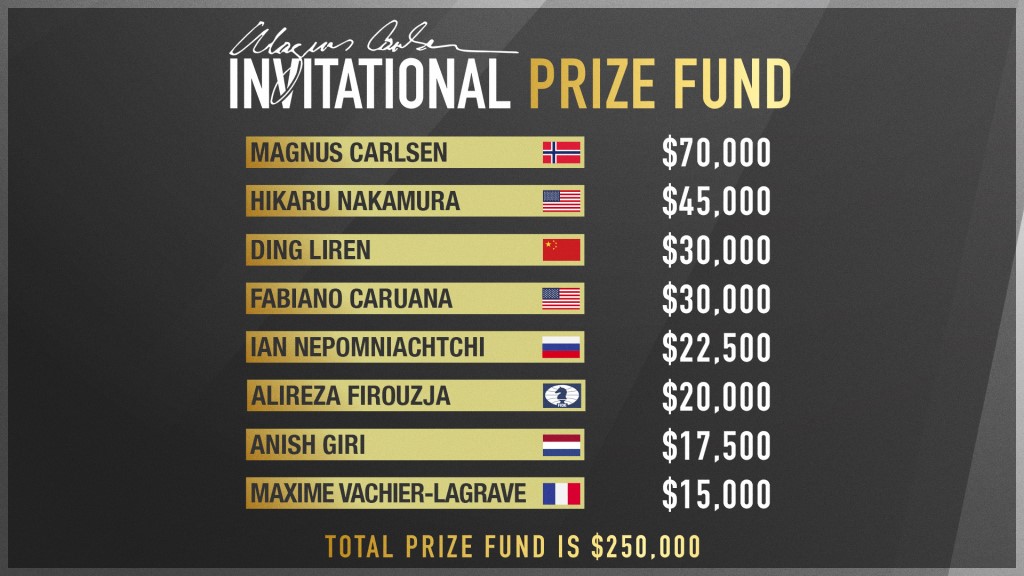 White wins
Carlsen had the more comfortable position once the queens left the board in game one. With two rooks and six pawns per side, White's knight had better prospects than Black's dark-squared bishop. Getting something tangible was no easy task, though. A long manoeuvring battle ensued, but White eventually managed to break through:
Black was already in deep trouble, and Nakamura's 72…Kf5 allowed the world champion to enter a forcing winning line — 73.h7 Kg6 74.Rg8 Kxh7 75.Nf6 Kh6 76.Rh8 , gaining the exchange. Carlsen had no trouble getting the win from that point on.
Nakamura, who showed his prowess in rapid throughout the event, bounced back immediately, gaining space in the opening and proving he can also outplay even the best in the world when given the chance. The American entered a superior knight endgame and tied the score with a 57-move win.
Carlsen 1-1 Nakamura after game 2 of the final. Hikaru winning game two. So far they've played 6 rapid games in the event – 4 in the preliminaries – and now 2 in the final so far – white has won them all.

— Mark Crowther (@MarkTWIC) May 3, 2020
Would the streak of wins for White continue? In fact, it did. In what turned out to be the most imbalanced game of the day, Carlsen slowly ground out a win with rook, bishop and pawn against a bishop and a pair of knights. The world champion correctly exchanged down into a winning opposite-coloured bishop endgame after Nakamura could not hold things together anymore:
There followed 41.Rf5 Kg8 42.Rxf4 Nxf4 43.Kxf4, and Black cannot defend this position despite the presence of bishops of opposite colours.
Nakamura was in a must-win situation, but he had the white pieces — not a small edge given the preceding results. Carlsen managed to neutralize White's position out of the opening, however, breaking on c5 at the right moment to simplify his task. The commentators thought there were many ways to hold the balance with Black, but one should never get over-confident against a player as resourceful as Nakamura.
And suddenly, it seemed like White's passed a-pawn would be enough to get the all-important win in a rook and knight v rook and bishop endgame. 'Naka' did not find the cleanest way to convert his advantage though:
There were mixed opinions among the commentators regarding White's 41.Ne5 here, exchanging the minor pieces and entering a pure rook endgame. At this point — or at a later opportunity — White could have gone for 41.h4, preventing what was later seen in the game: Black advancing his pawns on the kingside, creating enough counterplay to hold the draw.
Nakamura gave up trying on move 57, expressing with his gestures on the webcam that he knew he had missed a big opportunity. Carlsen concluded:
Obviously the last game was a mess. I allowed this Rd7 stuff for no reason, when I should have been just pretty comfortably drawing. It was tough, but yeah, I'm happy to have pulled through.
As reported by Tarjei J. Svensen, Carlsen mentioned to the Norwegian press that similar events might be organized in later dates:
I can't disclose much yet, but I can say that there will be more tournaments like this. For everyone who wants to watch, this is not the end, but rather the beginning of something that will be a lot of fun in the future.
Select an entry from the list to switch between games
---
Round-up show
GM Yannick Pelletier analysed the action of the day
---
GM Daniel King looked deeper into game three of the final
---
All games – Round-robin section
The Magnus Carlsen Invitational is brought to you by chess24.com. Learn more about the tournament at magnuscarlsen.com/en/invitational
Links
Official site
Round 1: Day 1, Day 2
Round 2: Day 1, Day 2
Round 3: Day 1, Day 2
Round 4: Day 1, Day 2
Round 5: Day 1, Day 2
Round 6: Day 1, Day 2
Round 7: Day 1
Semi-finals: Nakamura v Caruana, Carlsen v Ding