Hyundai Creta was launched in an all-new avatar earlier this year in the Indian market. The last-generation of the Creta remained one of the most popular vehicles in the segment and the best-selling vehicle in the segment for a long time. While people hold very contrasting views on the looks of the new Creta, almost everyone liked how the older version of the Creta looked. Since it has been a long time that the older-generation Creta existed on the roads, here are a few modifications that completely transforms the look of the Hyundai Creta from the inside and the outside.
The modification job has been done by Vinay Kapoor who has put up the video on his channel. The Creta before the transformation looks like in a decent condition and there are a few minor scratches and dents on the body. The overall condition, however, looks great. The Creta already has a few modifications in place including front guard and rear diffuser. Vinay Kapoor shows a rendering image of the intended Hyundai Creta and what he would like to see in real life. The transformation job looks quite good in the end.
The modifications in the Hyundai Creta include a new operator kit that has installed over the existing kit of the vehicle. It makes the Creta look extremely sporty and changes the overall look. Also, the chrome parts of the body have been blacked out to add a new look. The grille is all-black now while new additions in the front include bugs deflector that has been installed above the headlamps to deflect any kind of big deposition on the windscreen at night.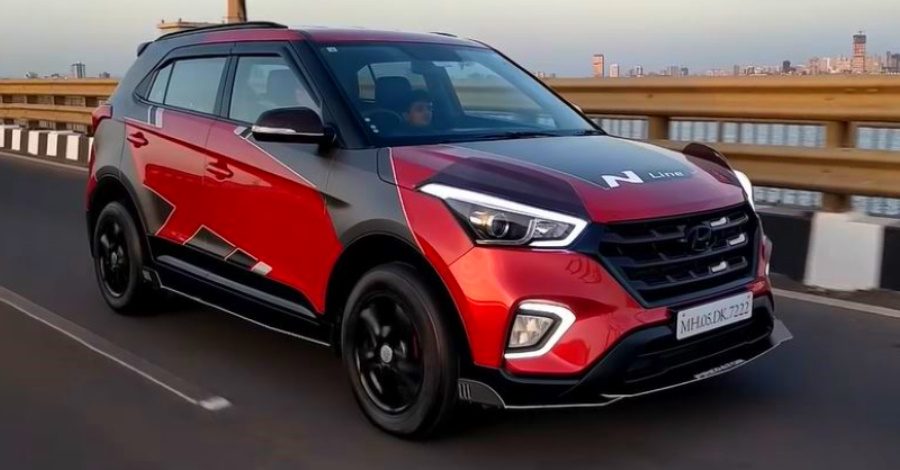 Even the sides get the same predator kit and at the rear, the same aggressive predator kit has been installed. The black body cladding has been given a spray treatment to make them look newer and fresher. This makes the car look newer and much better. The body also gets aggressive customised graphics that lifts the whole look of the vehicle and makes it extremely aggressive. The vinyl design is all custom made to suit the look o the car and approved by the owner.
The cabin has also received a number of changes. It includes a new diamond-stitched leather cover for the seats that add a new premium look. The dashboard gets the biggest changes. There is a new Tesla-inspired screen on the dashboard that takes up most of the space. It is an Android-powered device and replaces most other buttons on the dashboard to add a clean look. The dashboard gets a matte carbon fibre dipped treatment that makes it look much premium. The same pattern can be seen on the ORVM but in a shiny texture.
Want to see your photo feature about that exciting road trip published on Cartoq? Share your details here