Every time that Bitcoin reaches a new all-time high, people start to talk, and, almost inevitably, a single thought flashes across the minds of those who are not seasoned Bitcoiners.
However, if the average Bitcoin retail investor is anything like the average person, even a small Bitcoin investment can be dangerous to one's financial wellness.
Buying bitcoin was once taboo. Critics called it a fraud and a scam. Warren Buffett even went so far as to call it "rat poison squared" back in 2018.
After surpassing $34,000 yesterday, Bitcoin hit yet another record high – the latest of many in December. Some analysts are betting that Bitcoin is not going to stop anytime soon. Therefore, it may be some time yet before hopeful buyers can jump into BTC at a lower price.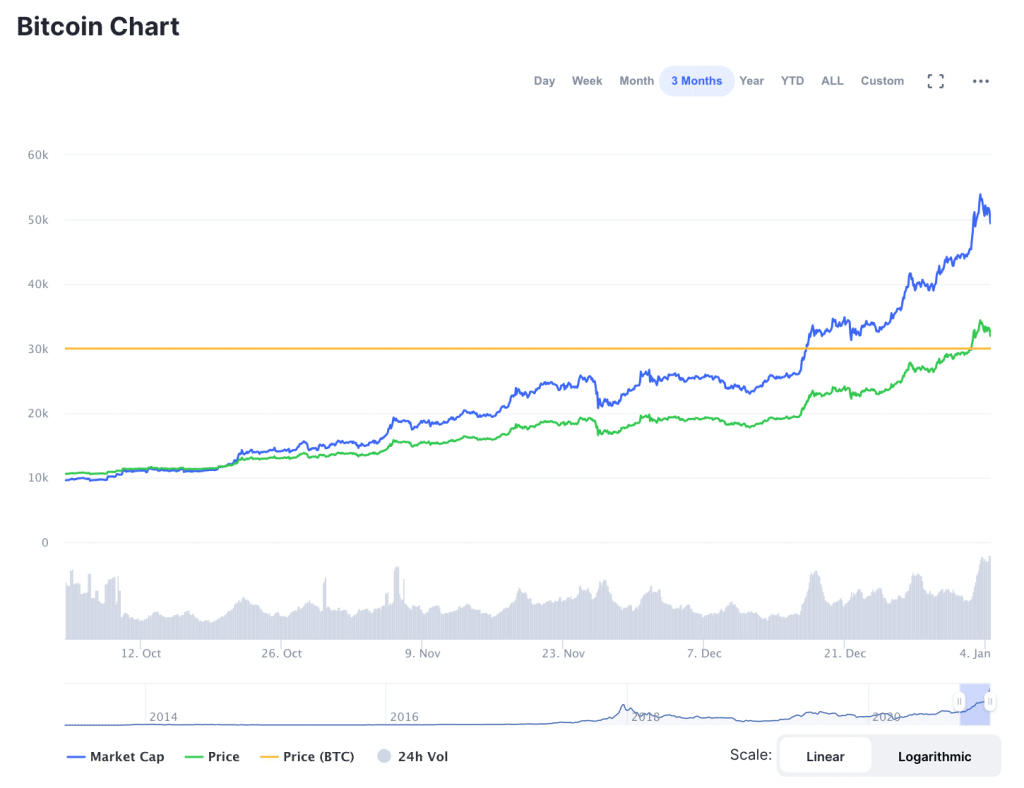 Yet people's views toward cryptocurrency are changing. Some of the best and most respected investors in the world are now buying large amounts of bitcoin. And some have signaled that they intend to buy even more in the coming year.
Here's why.
What are Bitcoins?
They are a cryptocurrency and a digital payment system. They are just like normal currency but without any physical form. It is completely managed electronically. They are used for secure and instant transfer of value to anywhere in the world. Bitcoin is the world's first decentralized digital currency. It is not owned or controlled by any government or financial institution.
How to buy Bitcoins in India?
In India, you can buy bitcoins from some trusted Bitcoin apps. There are quite a lot of such apps. To name a few there is Zebpay, UnoCoin, CoinSecure etc. Choosing the best platform to buy them from is another task.
What is the minimum amount needed to buy Bitcoins in India?
Today one Bitcoin costs you somewhere around 12 lacks. But you need not buy one Bitcoin to begin investing with. You can start with buying a part of the Bitcoin. The minimum amount that is needed to begin investing in Bitcoins is around Rs.500. Check on Google to know the latest price of Bitcoin in INR.
What are the legal procedures to buy Bitcoins in India?
Firstly, you will need to get yourself KYC(Know Your Customer)verified. For that, you need to submit your PAN card and a valid address proof. Next is a bank account. Make sure that the PAN and bank account belongs to the same person. The verification process takes about 2-3 working days. After this, you are good to go.
How to set-up Bitcoin Wallet?
The Bitcoin apps ensure you have a bitcoin wallet which helps in storing and selling bitcoins. These wallets are set up when you sign in and create your account.
Are the returns from Bitcoins taxable?
According to the government of India, any returns obtained from investments are taxable. So, of course, you get taxed for Bitcoin investments. You are taxed up to 30% for short-term investments and around 20% for long-term (3 years) for the capital gains.
What are the other counterparts for Bitcoin?
Today one can find quite a huge basket of crypto-currencies similar to Bitcoin. To name a few
Ethereum
Litecoin
Ripple
Peercoin
Namecoin
Quarkcoin
Zetacoin
To sum up, investing in Bitcoins has an edge. Be ready to take risks, analyze, read more and then take a decision to invest in them or not. I would say, always start with a small amount of play money to test it, even before you make huge investments.
Currently, we don't support Bitcoin buy-sell. But if you are interested in long-term investments, then explore Mutual Funds. They are much safer, easy and simple to invest in.
Groww helps you choose the best mutual funds for you. With customized portfolios, you are sure of achieving your long-term goals at ease.