5 Minutes With Demi Lovato Talking Brows, '90s Lipstick, And Rainbow Hair
Demi Lovato is not afraid of a full face. She loves a smoky eye. Her cheekbones are never not glowing. Her lashes reach heavenward, always. And while she doesn't shy away from piling on the products, she's just as comfortable revealing her no-makeup face to her 66 million followers on Instagram. She's long been a big fan of skincare ("She's said she would have loved to be an esthetician," her facialist of eight years, Renée Rouleau, once told me), and even launched her own skincare line, Devonne by Demi, back in 2014.
Naturally, I was excited to talk to the singer about her beauty routine. I met her backstage before the Brooklyn stop of her "Tell Me You Love Me" tour—she was warming up at her keyboard when I walked into her dressing room. Later, she'd be belting for two hours, baring her soul, commiserating with the crowd about being a single 25-year-old, overcoming addiction, and crying on stage (the show was a day after her six year anniversary of being sober). When we spoke, her energy was reserved and her voice was just a decibel above a whisper.
Despite her tight show day schedule, I managed to squeeze in a round of rapid-fire beauty questions about her routine, ahead: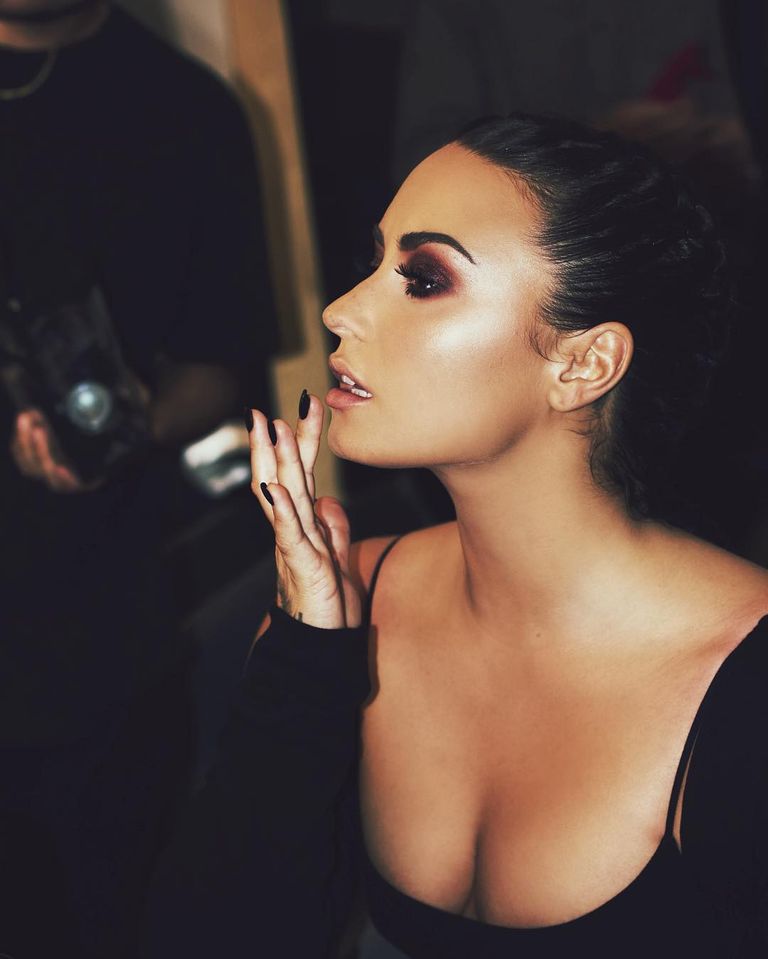 First beauty product she ever bought: "A lipstick at the Clinique counter when I was five using my tooth fairy money. I'm a makeup girl. I played with it a lot growing up—my mom let me."
Old beauty trend she'd bring back: "I love lipstick shades from the '90s, mauve, brown. I love the look of that."
Whether she uses drugstore beauty products: "No. I think it's really important that if you're putting stuff on your skin—you want to make sure it's good quality."
Thoughts on "unicorn" hair: "I've tried every hair color. I think my favorite has been the blonde with the pink."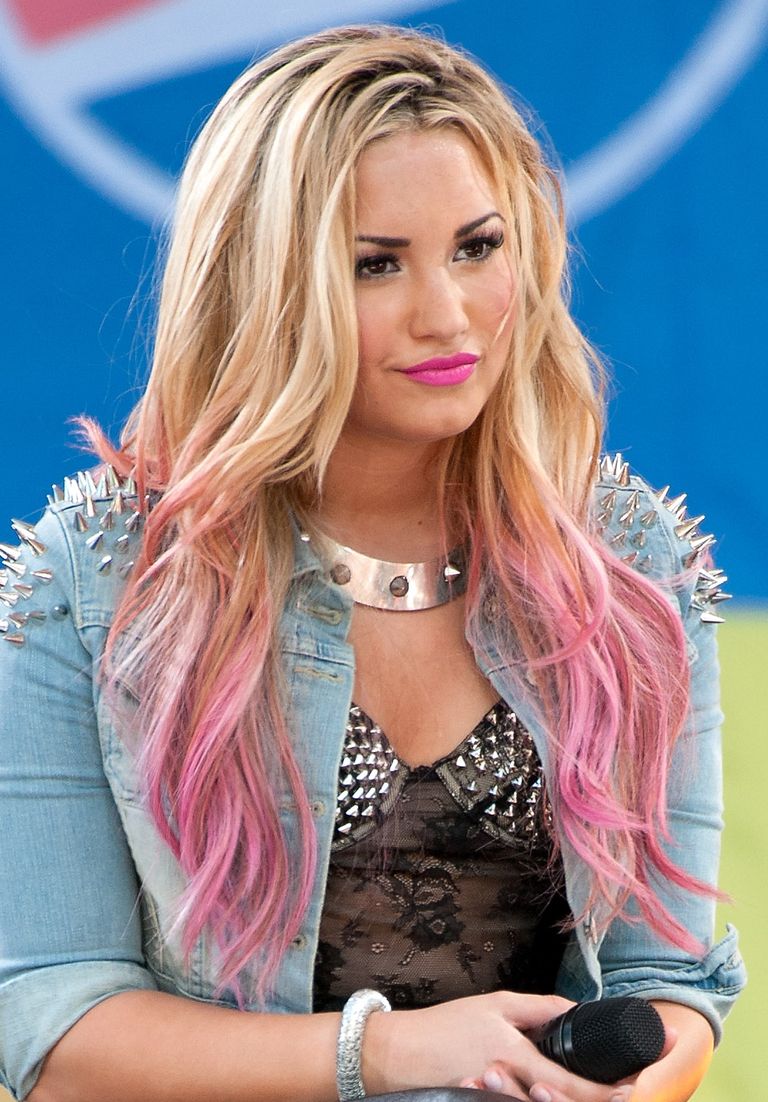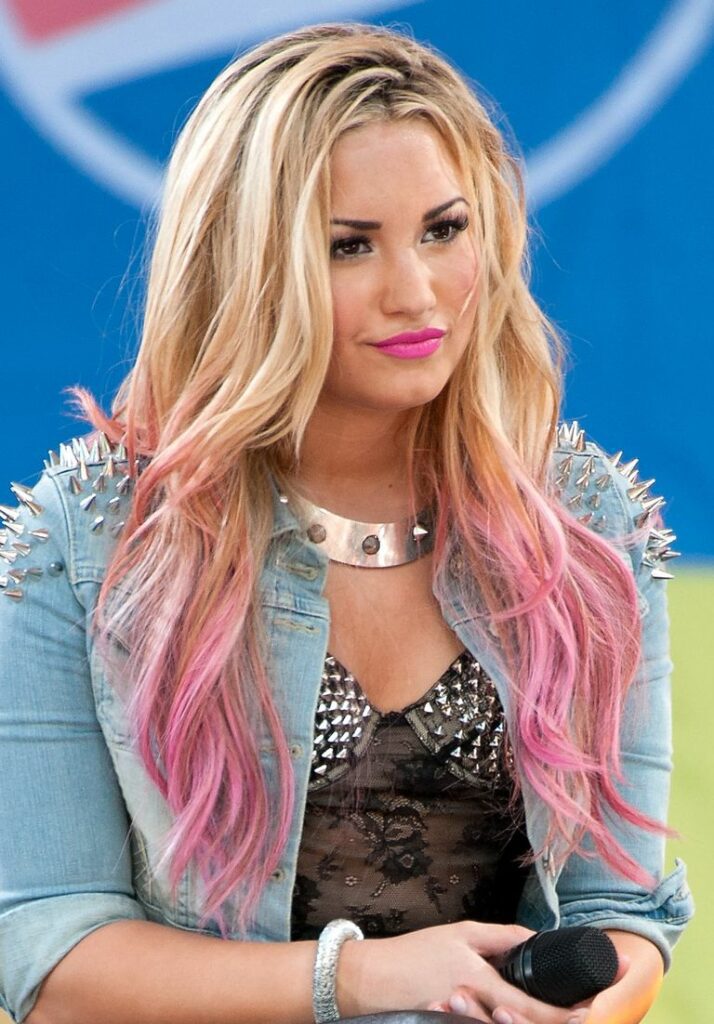 Beauty trend she wouldn't do: "Blue lipstick. I've done it before for pictures with friends and photoshoots, but I can't see myself wearing blue lipstick to a concert. [Also,] overdoing highlighter—because then you look like a glowworm!"
How she stays healthy on tour: "I like doing Muay Thai—I have a trainer who travels with me. All of the tour prep starts at 4P.M.—so I [fit it in] before that."
Most luxurious part of her beauty routine: "Facials with Renée Rouleau once every couple months. I use a lot of her products—I love the daytime moisturizer."
Her off-duty makeup necessity: "Tinted moisturizer."
Her tour beauty look: "It's dramatic. I have this smoky eye and different hair but all the same makeup. Extra long hair [is my thing]—it makes me feel good!"
One of her most important wellness habits: "I drink Throat Coat, which has echinacea and is really good for your voice. I have to keep my tea warm on stage—I have it underneath the stage—and the Ember [mug] keeps it warm."

Her brow routine: "I tweeze them, but I don't let anyone touch them. I haven't let anyone touch them since I was 15!"

Her tips for taking a makeup-free selfie: "It's all about being confident without makeup. I've always been confident without makeup. Also, having great lighting and a good angle helps."
Her favorite red carpet beauty look: "The most recent AMAs."
How she gets her long lashes: "These are lash extensions. I also like using strip lashes and cutting them into five pieces, and then I glue them on a little bit at a time. I'm using a serum and I would tell you but I don't want to give them promotion because they're not paying me, so…"